History
How a Cigarette Company shaped Formula 1
Formula One has had its share of sketchy sponsors, given the money-centric nature of the sport, but perhaps none has been as influential as the cigarette conglomerate that bankrolled the sport's expansion; Philip Morris International.
Disclaimer: RaceDebrief.com condemns production, sale or consumption of tobacco-based products.

The Origins of Cigarette Advertising 🚬
It's no surprise to anyone that Formula One is an incredibly expensive sport, and it has always been that way, with extremely high research and development budgets as multiple teams up and down the grid compete to make the fastest cars possible. While the earliest teams bankrolled themselves through pay drivers and other businesses, this quickly became unsustainable as the sport began to gain popularity. Teams would need money for better R&D as they looked to weasel out every edge over the competition.
During the sport's early days, car liveries used to represent the country of the manufacturer, Green for Britain, Blue for France and Red for Italians. Teams used to sport the driver's number and sometimes name as the only painted designs on cars. It was quite simple, really, and rather elegant. But that would all change because of, as was the case with many things about the sport at the time, one Colin Chapman.
Colin was rather unique, responsible for both management and engineering at the team, and a pioneer behind revolutionary designs in the sport. The team pushed the boundaries in terms of manufacturing and aerodynamics, securing multiple championships for those racing in the iconic British Racing Green. But to support the costs of the race team and reduce its liability on the production car side and technical partners like fuel suppliers, Lotus changed Formula 1 forever. They brought in cigarette sponsors. In 1968, the Lotus team added the Gold Leaf brand (of the John Player & Sons group) to their sponsor roster. Moving away from the traditional green livery, their car now bore a red, white and golden design, similar to the packaging of the aforementioned product, making the car look like, as Bernie Ecclestone put it, "a movable cigarette package".
And with that, the floodgates were open. Money started pouring in as tobacco advertisers saw an opportunity to get their brand some exposure on fast racing cars in an ever-growing sport. Cigarettes were extremely popular back then, despite some knowledge of the cancerous consequences. Lotus would later change their livery to a black and gold one as the John Player group decided to change the branding on the car to advertise another sub-brand of theirs.
The Arrival of Philip Morris International
Cigarettes were an incredibly profitable business, and bigger brands poured a lot of money into advertising just because they could. It helped if the C-Suite would prefer the avenue they would be advertising in, and sometimes it just was worth it committing to a sport or two. One such company was Philip Morris, whose owners enjoyed Formula One and found it worth investing. They decided to enter the sport in the early 1970s and shake it all up.
The brand they decided to promote was Marlboro, their most influential division. They held extravagant parties, sponsored events, races, drivers and teams. You'd be striking gold as a 1970s constructor if you just got Marlboro's branding on your car. They ventured into the sport through a sponsorship for BRM (British Racing Motors) in 1972, and had their first taste of success with BRM's victory at the 1972 Monaco Grand Prix. They liked the prospect, and would scale their advertising a lot for the following year.
In 1973, they decided to sponsor Frank Williams Racing Cars, branding them Iso-Marlboro (partnering with Iso Rivolta) until 1974. They would continue with BRM but also become sponsors for the drivers of Scuderia Ferrari and appear on their helmets and suits but not the car, as the team wasn't accepting non-supplier sponsorships yet.
They looked to expand more the next year as they got in talks with Brabham through Emerson Fittipaldi over a possible sponsorship deal, but that'd end up not going through as it turned out that they were using Brabham as leverage to secure McLaren, the brand they actually wanted to be on.
Success and Sponsorships in Formula One
This subsequently saw the exit of Emerson Fittipaldi too, as he moved to McLaren alongside the brand in 1974. The team won their first Constructors' title and a Drivers' title with Emerson that year, a good start to the partnership. They would win another title with James Hunt in 1976, a rather fitting ambassador for the brand as Hunt was a prolific smoker himself (which would end up being a contributing factor to his premature death in 1993). They would end their partnerships with BRM and Frank Williams Racing Cars in '74, sending the latter into a death spiral as it'd end up losing money becoming Walter Wolf Racing in future years as a disillusioned Frank would move away from the team to start Williams Grand Prix engineering (which continues on as Williams Racing today).
While they would have a dry run in terms of championships until Ron Dennis would come to McLaren, they enjoyed the attention they were getting and increased sponsorship investments up and down the grid. They would go on to sponsor Merzario from 1977 to 1979 and Rebazio in 1979 in the same decade. They would also start sponsoring the British Grand Prix from 1979, a partnership that continued till 1985. In fact, they were instrumental in bringing Ron Dennis (and engineer John Barnard) to the team, orchestrating the merger between McLaren and Project Four, the latter being Ron's own junior formula team. The brand had already established a great working relationship with Ron with both his Formula 2 and Formula 3 teams being backed by Marlboro.
Ron Dennis would take over the reins of McLaren in 1981, a team principal who'd revolutionize the sport having risen through the ranks of the sport, leading Marlboro-McLaren into an era of domination with Niki Lauda, Alain Prost and Ayrton Senna, whilst producing one of the dominant cars of the era, the MP4/4. The brand also played a major role in bringing Prost to the Woking-based team after being his personal sponsor at Renault as well. The red and white livery would become extremely popular with the Marlboro chevron becoming an iconic piece of branding. They would also become a minor sponsor for Scuderia Ferrari in 1984, one of the first non-technical sponsors on their car. They would sponsor Alfa Romeo, no longer in their heyday, from 1980 to 1983 with the team only securing one pole position, one fastest lap and four podium finishes in that stint. They would also sponsor the Dallara-partnered BMS Scuderia Italia team from 1988 to 1992. Minor sponsorships would include a partnership with the Fittipaldi Automotive team (1981), the Spirit Racing team (1983-84), the EuroBrun team (1988), the Rial Racing team (1988-89) and the Onyx Grand Prix team (1989-90).
Marlboro McLaren would not win a race again after Ayrton Senna left the team in 1993, followed by the brand's departure from the team in 1996. However, they would become the main sponsor of the Scuderia Ferrari team in 1993, and a title sponsor in 1997 as the team became Scuderia Ferrari Marlboro. They continue to sponsor the team in some capacity. They would also sponsor the Footwork F1 team (aka Arrows; 1994), Minardi (1995) and the Forti F1 team (1995-96). They'd also be the title sponsor for the Hungarian GP from 1991–2002, the Spanish GP from 1993–2005, and the Brazilian GP from 1999–2004.
When they couldn't or wouldn't want to sponsor teams, they would sponsor drivers, especially notable ones like Prost, Senna and Häkkinen (the latter having his junior career funded by the brand). Tracks would be laden with a lot of banners for their brand, including branded umbrellas, press conference areas etc.  They poured a lot of money to get their brand out there for the world to watch as the sport gained international popularity year over year.
They were also known for bring "Marlboro girls" to the track, similar to grid girls but donning Marlboro branded merchandise as the brand would parade around the track for advertising and distribute free samples.
Power and Politics
As one of the biggest investors in the sport, Marlboro gained quite a bit of prominence on the political side of the sport. When the FISA (which would become the FIA) and the FOCA (a sort of a precursor to FOM) were at loggerheads when the FISA tried to gain extreme power over both the sporting and commercial side in the early 1980s, the brand played a crucial role in orchestrating negotiations between the two organizations. They had a lot of leverage on the list of tracks that F1 would race at alongside other decisions that the sport's governing bodies would take.
It is perhaps unhealthy for one sponsor and by extension, their industry to have such incredulous amounts of influence, and F1 would find that out rather soon.
Sanctions and Malicious Compliance
As the medical ramifications of tobacco and tobacco-based products gained the attention of multiple legislators across the world, many countries tightened their regulations around the consumption, sale and advertising of these products, most notably across Europe. With the first wave of regulations being relatively lax around advertising, they just had to remove the name from their branding in most regions. To comply, Marlboro used their iconic chevron logo and used the team's or driver's name instead of theirs. Sometimes, they just advertised through colors, like at the 1986 Portuguese GP, where Keke Rosberg's car was yellow and white to advertise Marlboro Lights.
As extensive research brought the carcinogenic nature of the substance to light, the EU decided to supersede regional bans and began work on a blanket EU-wide ban on tobacco advertising across various forms of media including sport in 1997. This was quite a substantial threat for motorsport which relied on cigarette advertising for a large chunk of revenue, with most of the Formula One grid relying on the industry for some share of their revenue. It was rather inevitable, but considering the bill proposed an immediate ban which would be disastrous for many teams, especially the smaller ones who would be at the risk of going out of business entirely, the FOM (mainly Bernie Ecclestone and Max Mosley) intervened and got in talks with UK and EU legislators to work something out. After multiple rounds of negotiation, they were allowed to carry tobacco advertising for nine more years. Local prohibitions would still be in effect.
This period saw the sale of many teams as without tobacco sponsorship, it would be rather unsustainable for the backmarkers to keep going. Many considered exiting the sport entirely. While many brands looked at reducing their investments as their time in the sport came to an end, the bigger ones like PMI weren't ready to leave just yet.
Scuderia Ferrari Marlboro - A story of Subliminal Advertising
According to Merriam Webster, subliminal is defined as "existing or functioning below the threshold of consciousness". Subliminal advertising is an attempt to replicate the same scenario, making people aware of a product and making them want to buy it without explicitly being told to do so.
Tobacco advertisers tried various forms of subliminal advertising in Formula One, like the early 2000s McLarens sporting their drivers' names instead of the West title, or like the McLarens mentioned above. Marlboro and Ferrari tried many different things to get by these rules as well.
In 1993, they used their chevron with their drivers' names in the races where advertising was restricted.
From the 1980s to 1996, team members' clothing would have a white square with a red stripe and the driver's name on their uniform instead.
From 1994-1999 and 2005-2006, Ferrari ran a barcode design instead of the Marlboro logo.
From 2000 to 2004 (and sometimes in 1988 and 1989), their logo was either removed or replaced with a white space.
While tobacco advertising had been completely banned in the EU by then, Ferrari extended their sponsorship deal with Marlboro in September 2005, that'd ensure their partnership would continue till 2011. They continued sporting the barcode design as a way to skirt by the rules, a move protested by prominent doctors at the time. This was because it was considered that at very high speeds, the weighted barcode logo would resemble the Marlboro logo, with its red stripes up top looking similar to the chevron and the black ones looking like the brand's name. Even if it was not interpreted that way, it'd be in the same place as the logo, causing people to correlate it with the brand.

From 2008, the Marlboro logo would never be explicitly seen on the car again, even in middle eastern races like Bahrain where tobacco advertising was not restricted. PMI decided to move to the barcode livery entirely to establish their identity in that regard. It also invoked a strong relationship in viewer's minds as an alternate logo for Marlboro without saying so outright. But they would end the barcode logo in 2011 as the Scuderia Ferrari team would undergo a change in their logo that'd be rather similar to the top-left corner design of a Marlboro cigarette pack (succeeding one that included the barcode, which succeeded the one with both brands side by side). This logo would take the position that the Marlboro logo once did. It was designed by CountryLab. In fact, PMI were also closely associated with the Ducati MotoGP team, who underwent a similar logo change during that period.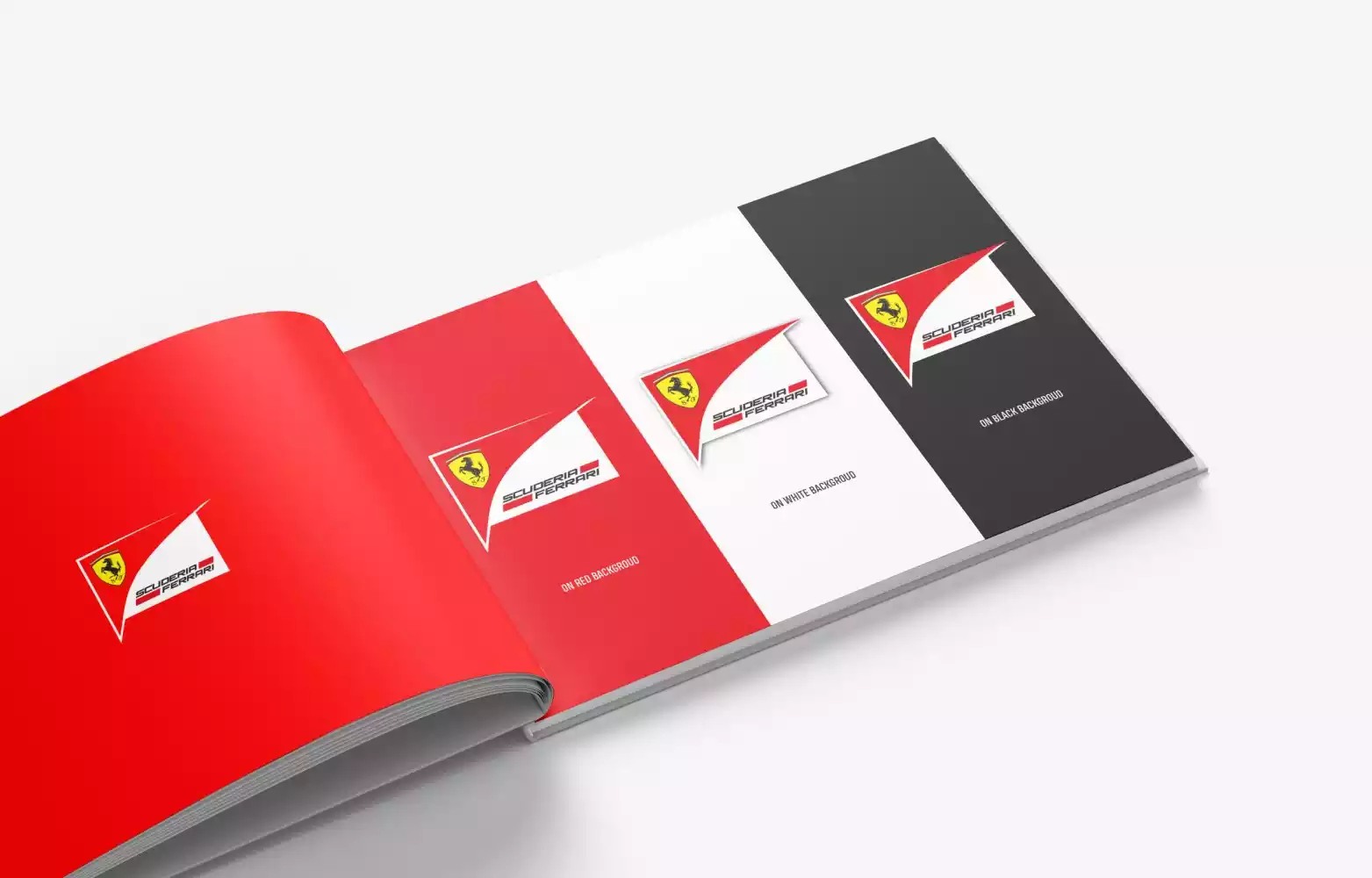 This was not the first time PMI had demonstrated such control over the team's design decisions however, as the team went from a blood-red livery to an orange-red one in 1996, rather similar to the Marlboro color scheme. In fact, they would pay a sum for their space on the livery and then, because of their unique agreement with Ferrari, lease sponsorship rights to their space on the livery to other companies, sometimes for a profit! These "sub-sponsors" would vary from race to race, region to region, according to their deals with PMI. The brand had much more control over the team than one might imagine, with Maurizio Arrivabene having arrived from his marketing executive role at PMI to become the Team Principal of the team from 2014-19. Sergio Marchionne, former CEO of Fiat Chrysler Automobiles NV and by extension, Chairman and CEO of Ferrari, was a non-executive director of Philip Morris and held a significant amount of PMI shares (with a value of around 5.2 Million USD in 2015, according to Bloomberg).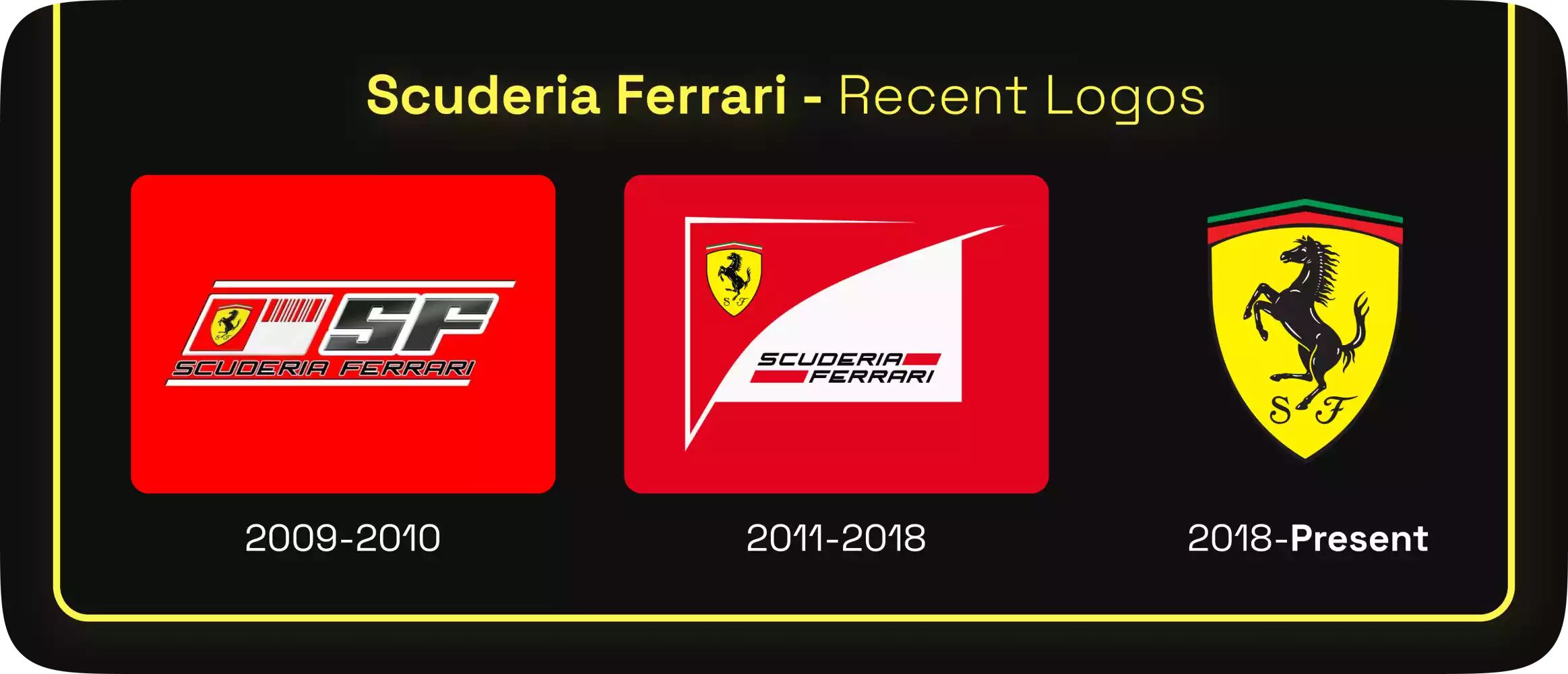 In 2018, PMI would launch their Mission Winnow brand, a "charity" with a missions statement that says that their goal is to "drive change by constantly searching for better ways of doing things". It was basically a proxy brand with a multi-chevron logo, probably intended to invoke familiarity with their old chevron logo. At the same time, Scuderia Ferrari changed their logo to their original badge style one without any reference to PMI, probably as a branding shift. In 2020, they would become a title sponsor for the team and have their logo prominently displayed at their favorite location, near the engine cover, in a contrasting bright green that did not really blend in with rest of the colorway, but did complete the colors of the Italian flag.
Mission Winnow would leave Ferrari (and Ducati, ending their motorsport presence) at the end of the 2021 season only to re-sign with the team a couple of weeks into the 2022 season, albeit as a second tier sponsor after being their title sponsor for two decades.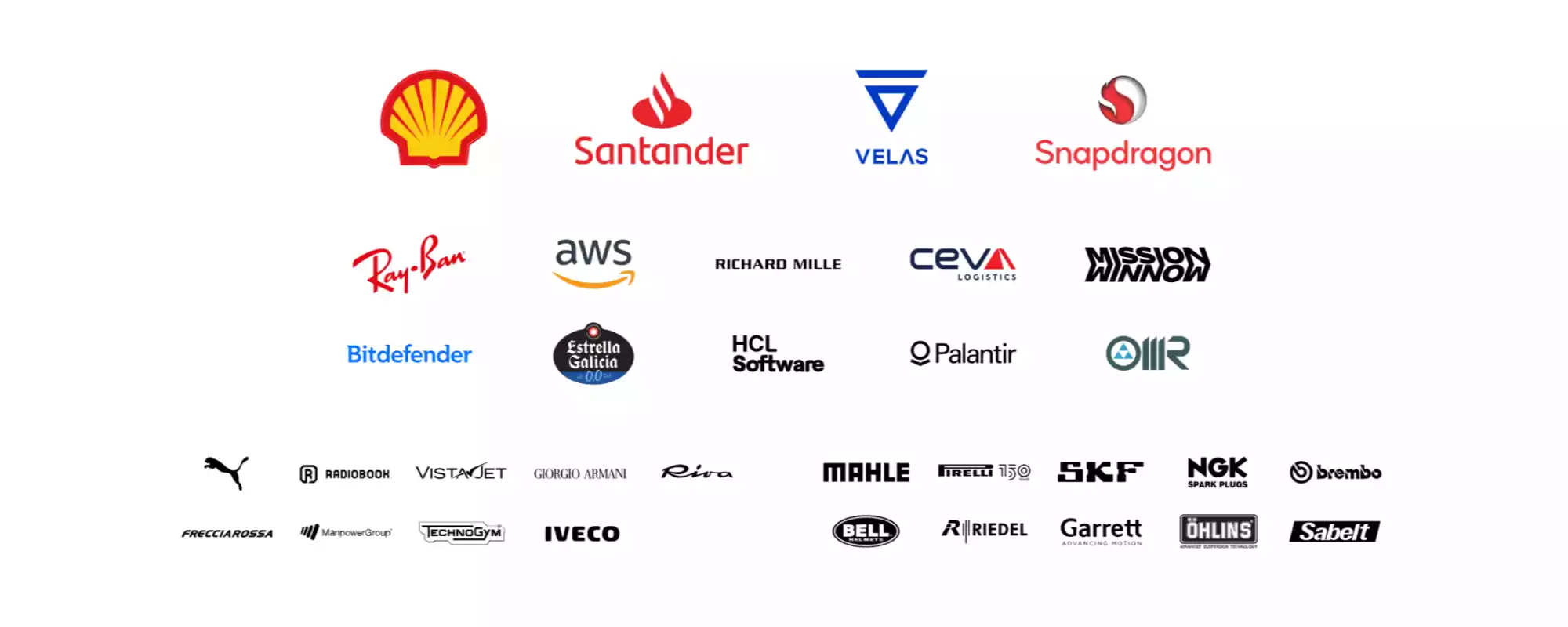 ---
Conclusion
Philip Morris has been the longest major cigarette sponsor in this sport, and holds the top 2 positions for the longest title sponsorships with McLaren and Ferrari respectively. With their influence over the sport in the late 1900s, it's fair to say that they have had a huge role in shaping the history of the sport. The FOCA-FISA fallout could have been much worse if not for them, perhaps prompting the Brits to actually leave Formula One like they threatened to start their own open wheel racing series. They had enough influence to get entire regulations delayed by getting the FOM to lobby for them and continue to have a significant influence in the scarlet Italian outfit. As Bernie Ecclestone once said; "Formula One is Ferrari. Ferrari is Formula One." They continue to be the only staying tobacco sponsor in the sport despite their Mission Winnow brand being under immense scrutiny be regulators. It'd not be an overstatement to say that they changed the course of the sport.
Today, one thinks of Formula One as a technical, precision driven sport. However, public perception of the sport was very different in the 20th century, where it was seen as a sport of daring, "crazy" people who'd risk everything just to go fast. While the sport has been rather safe for the last few years, deaths were not rare in the early days of the sport. The cigarette-smoking, fit and smart playboy athlete was something that Formula 1 was associated with at the time, but as the sport has evolved in the last few decades, that has obviously changed quite a bit. While we may look back at such advertising as being rather absurd, it was quite commonplace at the time and it fit right in.
There's no doubt that tobacco sponsorships gave us the most beautiful liveries in the history of the sport, like the Marlboro McLarens or the Camel Lotuses. They have, perhaps, have also been instrumental in keeping the sport up and running for decades, as they were one of the most stable sponsors for decades. However, the money that they invested comes off of millions of individuals addicted to their carcinogenic, extremely unhealthy products that are responsible for millions of deaths. Even today, these brands try to evade regulations restricting their advertising and sale using various methods. It's rather surprising, however, that the original EU ban (which the FOM protested) exempt TV advertising from the ban. Governments still allow the sale of these products at extremely high tax rates to earn money off of them. It's a similar story with alcohol sponsors, who are still permitted in the sport, despite having to adjust their logos in various countries.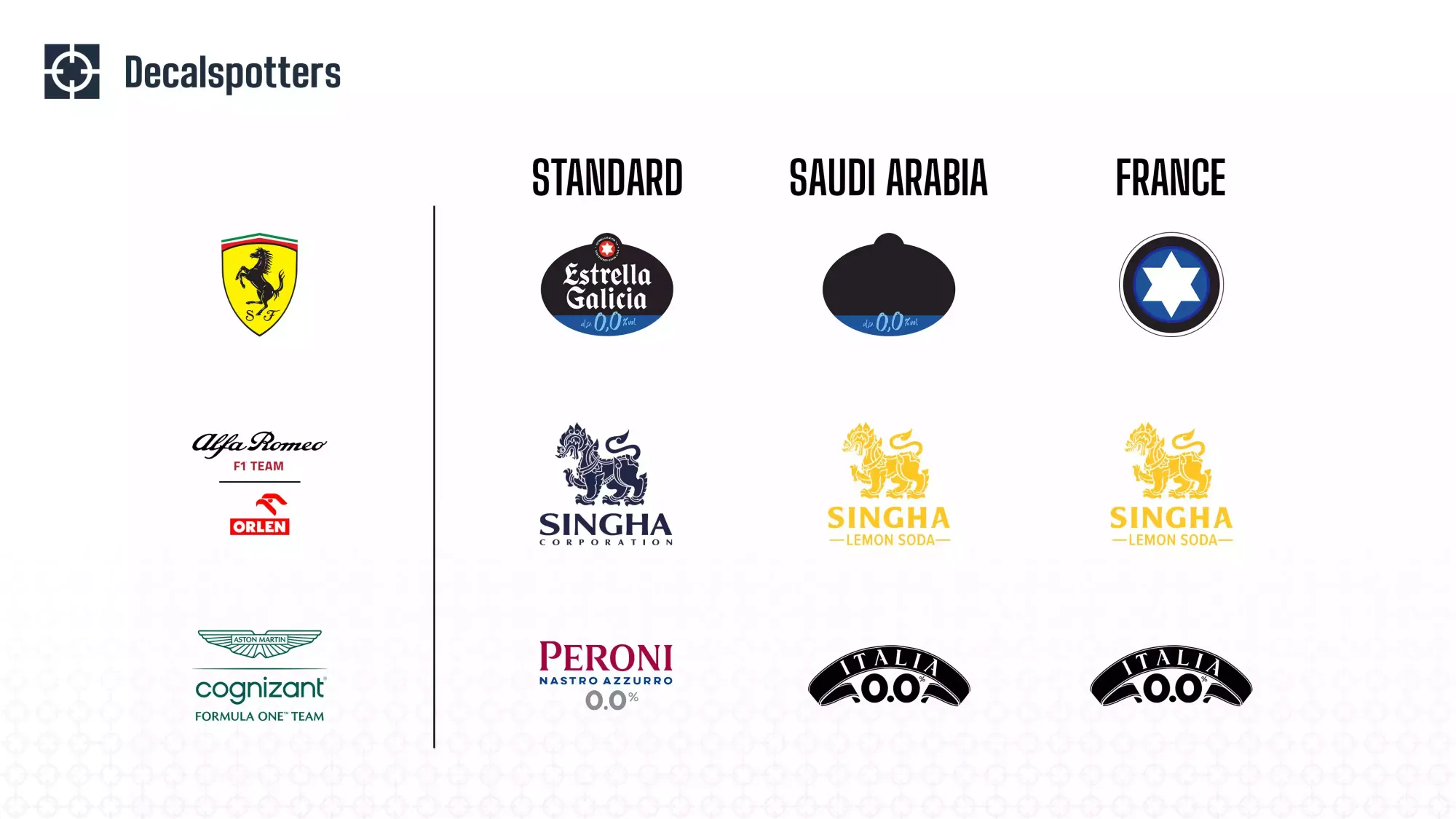 Vaping sponsors are also rampant in the sport, offering tobacco companies a way around most international regulations. British American Tobacco now advertises on McLaren cars through their "Vuse" vaping brand, which they sometimes have to replace with local retailers or blank spaces to comply with certain regional regulations.
Formula One seems to have found a new tobacco in cryptocurrency platforms, however, with almost every team sporting at least one cryptocurrency sponsor in 2022, sometimes multiple. There are no regulations against them yet, so they've been indulging in extravagant deals just like Tobacco brands once did. However, they haven't been the most stable sponsors economically. Perhaps the best example of their volatility was demonstrated by the collapse of FTX (who were Mercedes' sponsors for a large part of the 2022 season), which caused a lot of instability in the crypto market.
F1 will always need some industry that infuses large amounts of money into it, as the sport remains rather expensive despite the cost cap. Unfortunately, the richest companies that desire advertising also tend to be ones involved in harmful or addictive products like tobacco, vapes, alcohol, gambling and speculative investments or in exploitative industries like oil.
---
Disclosure
RaceDebrief.com condemns production, sale or consumption of tobacco-based products, especially those designed to addict people. We also encourage people suffering from said addictions to work on quitting their habits and get medical assistance if needed. This article was intended to bring awareness to this cause and not glorify or advertise any aforementioned products.

This article is entirely sponsor-free. This website is self hosted and does not generate any revenue. The only user-data is collected by the owners except the default data collected by Cloudflare is page visits and origin country data (for analytics). You aren't and will not be served ads on this page, ever.
This website is unofficial and is not associated in any way with the Formula 1 companies. F1, FORMULA ONE, FORMULA 1, FIA FORMULA ONE WORLD CHAMPIONSHIP, GRAND PRIX and related marks are trade marks of Formula One Licensing B.V.
Any product names, logos, brands, and other trademarks or images featured or referred to within the app are the property of their respective trademark holders. These trademark holders are not affiliated with Race Debrief or its contributors. They do not sponsor or endorse Race Debrief.
"F1 TV®️", "Formula 1®", "F1®", "Alfa Romeo®", "AlphaTauri®", "Alpine®", "Aston Martin®", "Ferrari®", "Haas®", "Haas F1 Team®", "McLaren®", "Mercedes®", "Red Bull®", "Red Bull Racing®", "Williams®" are trademarks of their respective owners and are not affiliated, endorsed, connected or sponsored in any way to this website.