The first Mercedes Grand Prix win in 2022, Safety Cars shuffling the strategy and a weekend to remember for George Russell. Here's part two of the debrief for this rollercoaster weekend.
Setting the Stage
The rest of the weekend had already set rather high expectations for the Grand Prix on Sunday, and this race was going to deliver. With most of the drivers using one set of softs in the sprint, only Verstappen, Latifi, Tsunoda and Ricciardo had 2 pairs of new softs, with all others left with only one set. The tyres for Aston Martin are not representative, however, since they scrub their tyres before a Grand Prix. Scrubbing is a procedure where a tyre is only taken out for a lap or two to put it through a heat cycle, but with very little wear so it is usable later on. Aston has done so throughout the year.
Pirelli's recommended strategy was a two-stopper, and a slower one would have been a one-stopper, but considering that the track had significant degradation on harder compounds, a unique characteristic we haven't really seen many times before this year, it would end up being a two or a three stopper for most teams.
Yuki Tsunoda started from the pitlane as he changed his front and rear wings to those of a different spec. Carlos' grid penalty resulted in him starting from P7, which ensured a front row lockout for Mercedes, and a second row lockout for Red Bull. As the drivers lined up to the grid, Alex Albon stood out as the only driver on hards, which was a very surprising choice, as other drivers had already struggled on the mediums earlier.
The Grand Prix
As the five lights went out to mark the start of the race, George got away extremely well with Lewis close behind him and Max closely trailing Lewis. But behind them, Daniel tried to have a look down the inside of Kevin Magnussen's Haas, resulting in contact which sent KMag into a spin, resulting in KMag colliding with Ricciardo whose car ended up in the barrier, as both drivers DNF'd and a safety car (SC) was sent out. It was a sad end for a weekend that gave him his first F1 pole position for Magnussen.
George was quite witty at the SC restart however, as he led the pack down the main straight and only went full throttle at the start/finish line to give the drivers behind him the least amount of time to chase him down the large straight at Brazil. Alex, as predicted, did not like hards and quickly moved on to the mediums losing much lesser time under the SC than he would have otherwise.
Max Verstappen tried to go around Lewis Hamilton and was ahead into turn one but having compromised his exit was slower into turn 2 where Lewis took the racing line and had a collision with Max. Now, Max was given a 5 second penalty for the incident and it was quite reminiscent of the 2018 collision between Max and Ocon into the same turn (which earned Ocon a 10 second stop and go penalty, but Ocon was a lapped car in that scenario). The TV camera does look like it was entirely Max's fault, but being on both onboards, and analyzing them later, I personally feel that was a racing incident. This is just my opinion, though, and other opinions are also equally valid.
The incident did result in floor damage for Lewis and the wheel cover on his front right tyre fell off, but there didn't seem to be a significant performance penalty from that. He dropped behind the pack but kept on going while Max had significant damage on his front wing and had to pit, losing a lot of time to the rest of the grid, despite an extremely rapid front wing change within 10 seconds, when the regular duration for the same is 12 seconds! Charles Leclerc also had a major shunt with Lando Norris which sent Charles into the barrier but with surprisingly minimal damage, Charles could continue after a pitstop.
While Max did go on to use the medium tyres, they didn't last very long, since he wasn't getting any grip on them, just like the day before, and he pitted for used softs, and put in a rather long stint on them, during which he reported an increase in grip, which his race engineer suggested was probably due to the track temperature dropping considerably. Max's double overtake on Ocon and Bottas across the main straight was helped by the superior grip of his fresh softs compared to their worn tyres. Russell and Hamilton were both on a soft-medium-soft strategy, which worked out wonderfully for them. George held on to the lead quite well, but it was rather tight between Perez, Sainz and Hamilton for the other podium positions, with Hamilton eventually edging the two out in terms of pace. Sainz's strategy was affected by his rear right brakes burning due to a stuck tearoff. It's a weird coincidence that this has happened to Ferrari twice this year, the other instance being Stroll's tearoff in Leclerc's brakes at Spa.
Perhaps the biggest benefactor to Mercedes this weekend was their much lesser tyre wear. F1's Mark Hughes and Giorgio Piola cover the different cooling and temperature management in this great article with detailed, beautiful diagrams and explain why the Mercedes wears its tyres out the least, which helped them on an high degradation track like Interlagos. George had also had a water leak in his cooling mechanism, which could have resulted in a DNF for him, but the team decided to not tell him that and have him drive on with that small risk which never came to fruition.
On lap 53, McLaren's Lando Norris retired with engine issues, with McLaren having a point-less day as both their drivers DNF'd. A VSC was then issued followed by a full SC, which had it's own small controversy during unlapping. Race Control sent a message for the lapped cars 23 and 6 (The Williams cars of Alex Albon and Nicholas Latifi) to unlap themselves and rejoin the pack, but they left out Car 22 (Yuki Tsunoda). The reason for this was a technical one, and is an oversight that should not have occurred. As a consequence of the 2021 Abu Dhabi Grand Prix, the procedure for tracking cars and ensuring the unlapping of cars was automated. However, because Yuki pitted under the SC, he was in the pitlane and was faster than the other cars and technically unlapped them in the pitlane because he crossed the first safety car line, which is the metric that is the threshold for unlapping, but by the time he came back out, he was obviously behind them, lapped again. This meant that while he was still lapped, the automated race control system had him unlapped already and couldn't let him unlap himself again, leading to the chaos with him passing some cars before the restart but not others. The FIA has said that it does not think this can be rectified any time soon and will probably continue to be an issue, which is quite disappointing.
Fernando Alonso put in an amazing drive, however, going from P17 to P5, finishing ahead of both Red Bulls after his collision with his teammate during the sprint, while his teammate Esteban Ocon also made a great recovery to P8. Stroll just edged out Seb for the last point, finishing behind Valtteri Bottas. An interesting takeaway was Alex Albon's post race radio about how his tyres were going off within 2 laps of following a car, something that the Williams has routinely struggled with this year. Speaking of radio...
Team Orders
Interlagos has seen its fair share of drama over the years, and this weekend was no exception. Be it Vettel and Webber in 2012, Leclerc and Vettel in 2019, there has been no lack of controversy between teammates in Brazil.
Let's start with some camaraderie first, as this one warmed my heart. Bottas was advising Zhou through the team that he could overtake Latifi at Turn 10 since he was braking early there, which was just such a gentlemanly move from the flying Finn.
As Mercedes seemed to inevitably be in a position to grab the race win and a 1-2, George asked his team whether the teammates had to fight it out for the win or was he going to retain the lead with team orders, and he was told they'd duke it out for the win.
At the SC restart, Ocon was also asked to let Alonso through, but he said he'd only do that once both him and Alonso got past Sebastian Vettel, and he complied later in the race.
It was the battle for P2 in the championship that got really spicy though, as Leclerc repeatedly asked for team orders to finish ahead of Carlos to gain a lead over Sergio, which Ferrari refused on the premise that it was too risky and could leave them vulnerable to Alonso and Verstappen behind.
The real headline-grabbing moment was with Red Bull Racing though, who are also gunning for P2 in the championship. However, this sequence of events has been underreported and inadequately represented on the international stream, so it'd be worth it to explore the sequence of events further and have a look on the incident from all sides. As Fernando was P5, Sergio P6 and Max P7, Sergio was told to not hold Max back and that Max would try to overtake Alonso, and if he failed to do so, he'd hand the position back. However, Max was only told that he needed to attack Alonso. Max, however, failed to do so with the handful of laps remaining. As he went across the final lap, his race engineer, Gianpiero Lambiase, told him that if he did not get Alonso by the final turn, he'd have to hand the position over to Perez, to which Max had no response. As Max went around the final turn, he couldn't do that. He was told to give Sergio the position for P2 in the championship, but even on GP asking him to do so thrice, he did not. When GP asked him why he did not hand the position back, he said:
I told you already last time, you guys don't ask that again to me. OK? Are we clear about that? I gave my reasons and I stand by it.
Sergio, who was expecting the position to be handed over to him, said on the radio:
It shows who he really is.
Sergio has unarguably been a great teammate to Max, most notably for his extremely impressive defensive drive against Lewis Hamilton at the 2021 Abu Dhabi GP, taking almost 5 seconds off of his time. He has also helped Max at numerous other occasions, such as the French GP in 2021 and most recently at the 2022 Spanish GP, where he felt the switch was unfair but still gave Max a position. After his collision and subsequent pitstop, Max was out of the competition for a podium, and had nothing at stake here, championship or stat wise, having already secured the Drivers' Championship. What Max did was obviously ungentlemanly and wrong. In an interview to the press, Perez said that Max only had 2 championships because of him.
The internet was understandably outraged, but once again, people forgot that we have a lack of context here. What were Max's reasons? We'll probably not know until Max or Christian Horner write their autobiographies, or someone from Red Bull Racing leaks it. There were rumors around the paddock of this having something to do with Sergio crashing on purpose during Q3 in Monaco and admitting it to the team, and Max being understandably infuriated about it within the team. But this is, most importantly, an unsubstantiated rumor, with little to no evidence. This could lead to a controversy as big as crash-gate once again, with dire consequences. Max was duly questioned about the same by Sky Sports, and he left it open-ended. It was also reported that Sergio Perez unfollowed Max Verstappen on Instagram earlier this weekend, which fuelled the speculation even more.
However, it does seem like it was Max's way of taking a revenge of sorts, and this is purely speculation. He did say that the team got together after the race to discuss it out and settled the matter and that he would work to help Sergio secure P2 in the championship at Abu Dhabi.
There's probably a lot more about this sequence of events that we're not aware of, and there has been lots of discussion based around rumor, so please make an effort to differentiate fact and speculation.
UPDATE: Red Bull Racing has issued a statement on this fiasco on 17/11/2022.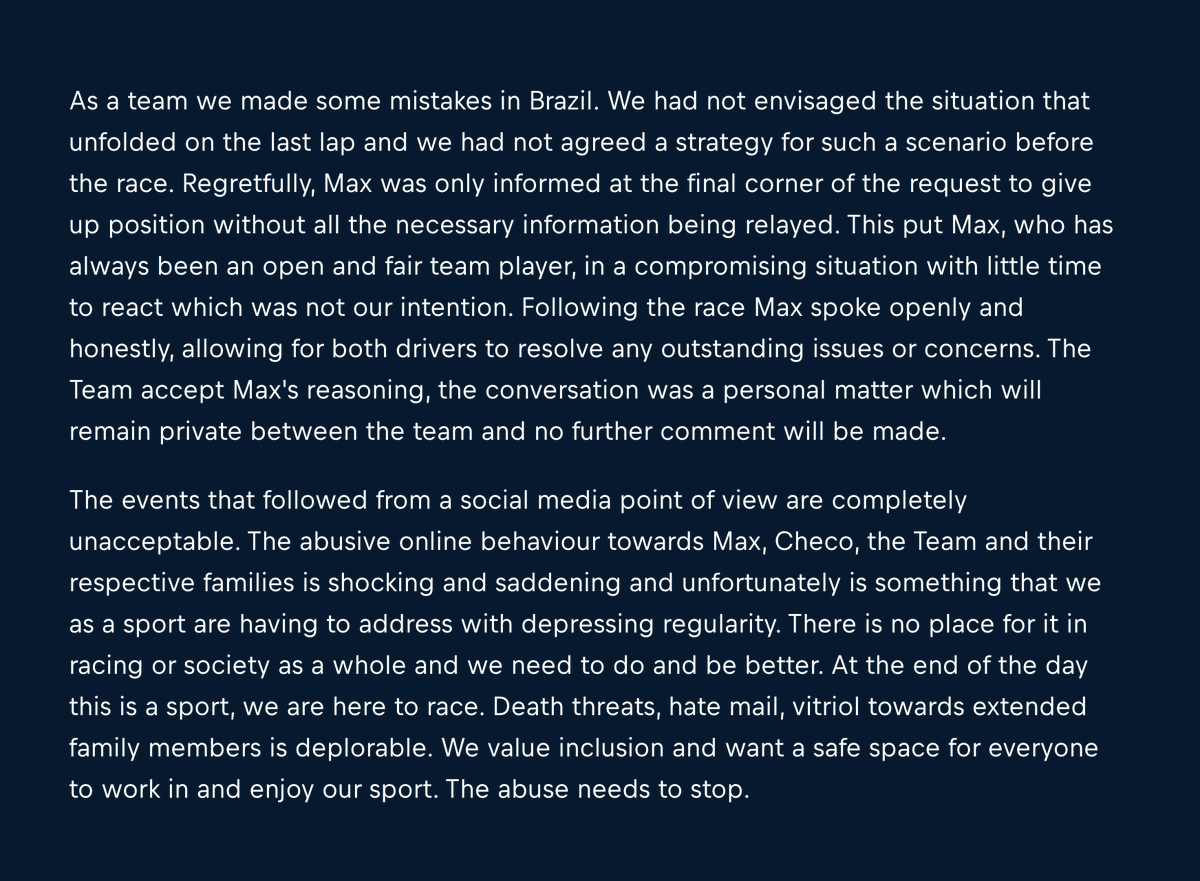 Summary
This was probably the most eventful weekend the whole year, and you'd be forgiven for forgetting that Kevin Magnussen took pole on Friday. George Russell became an F1 Grand Prix winner for the first time, Mercedes took their first 1-2 since 2020, and their first victory this season. Thank you Interlagos.
Read Part One here, that covers the rest of the weekend.
As we head into Abu Dhabi, all the eyes will be on the battle for P2, as Charles Leclerc and Sergio Perez come into the weekend with equal points. If they both DNF somehow, George could also snatch it with a win and a fastest lap! On the constructors' side, the gap between Mercedes and Ferrari is 19 points, and so is the gap between Alpine and McLaren! It's all to fight for at the Yas Marina circuit.
Disclosure
This article is entirely sponsor-free. This website is self hosted and does not generate any revenue. The only user-data is collected by the owners except the default data collected by Cloudflare is page visit and origin country data (for analytics). You aren't and will not be served ads on this page, ever.
This website is unofficial and is not associated in any way with the Formula 1 companies. F1, FORMULA ONE, FORMULA 1, FIA FORMULA ONE WORLD CHAMPIONSHIP, GRAND PRIX and related marks are trade marks of Formula One Licensing B.V.
Any product names, logos, brands, and other trademarks or images featured or referred to within the app are the property of their respective trademark holders. These trademark holders are not affiliated with Race Debrief or its contributors. They do not sponsor or endorse Race Debrief.
"F1 TV®️", "Formula 1®", "F1®", "Alfa Romeo®", "AlphaTauri®", "Alpine®", "Aston Martin®", "Ferrari®", "Haas®", "Haas F1 Team®", "McLaren®", "Mercedes®", "Red Bull®", "Red Bull Racing®", "Williams®" are trademarks of their respective owners and are not affiliated, endorsed, connected or sponsored in any way to this website.