Weekend Review
Abu Dhabi Grand Prix - Weekend Review (2022)
Sebastian Vettel's last weekend in F1, Max Verstappen's 15th win of the season and the battle for P2 in the drivers' standings. The Abu Dhabi GP was an emotional one for everybody. Danke Seb.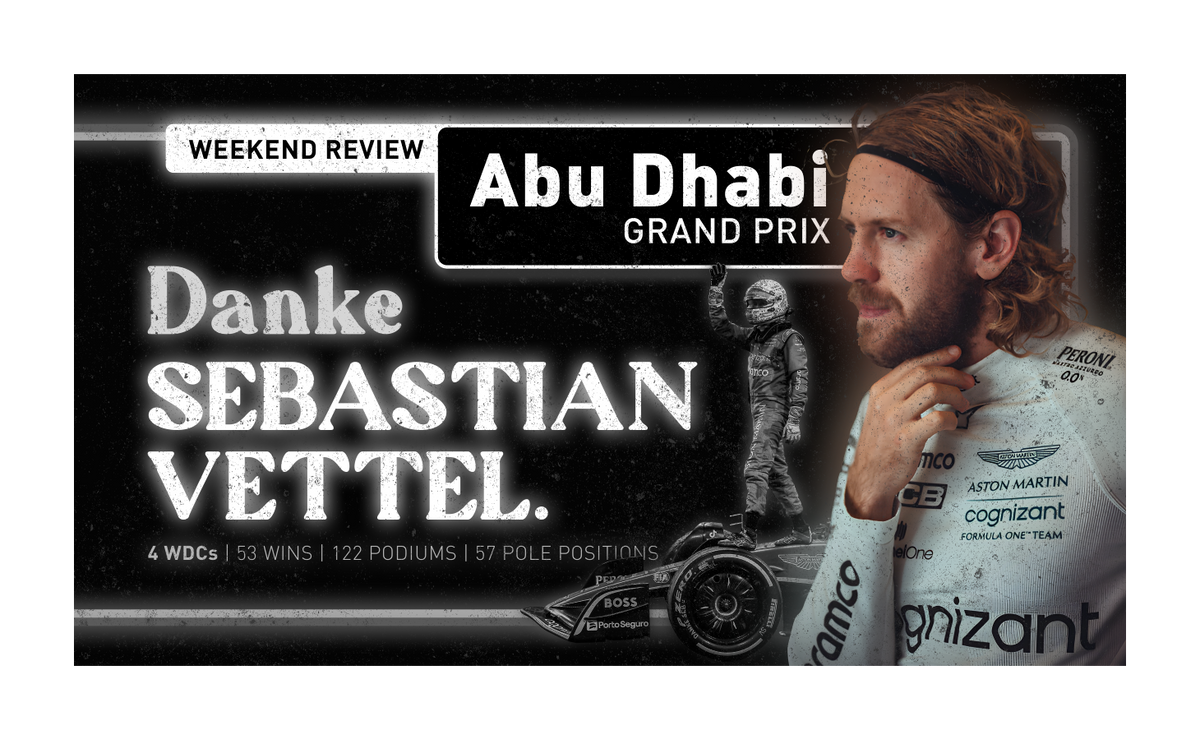 Sebastian Vettel's last weekend in F1, Max Verstappen's 15th win of the season and the battle for P2 in the drivers' standings. The Abu Dhabi GP was an emotional one for everybody. Danke Seb.
Coming into the weekend
The lead up to the Abu Dhabi GP Race Weekend was jampacked with news as we close out the season.
Haas signs Hulkenberg
In a press release on Thursday, Haas announced it would be swapping Mick Schumacher with Nico Hulkenberg. Team boss Guenther Steiner has aired grievances with Mick throughout the season, and their strained relationship was not helped by Mick's extremely expensive crashes this year, notably in Jeddah, Monaco and Japan, as he raked in the highest damage cost of the grid this year in a team that did not even meet the cost cap. Mick was only informed of the decision on the same day as the press release, sabotaging his negotiations with other teams, as he put out his own announcement expressing disappointment and a will to continue in F1 in the future.
Rumors galore at Maranello
La Gazzetta dello Sport, one of Italy's biggest sport media houses, published an article claiming that Ferrari was planning to replace current team principal Mattia Binotto with the Alfa Romeo Sauber Team Principal Frédéric Vasseur. Scuderia Ferrari alleged that any such rumors are baseless, and so did Charles Leclerc at the press conference on Thursday. Again, these are just rumors, with no evidence.
Car Upgrades
After an upgrade-less weekend at Brazil, there were 2 teams that surprisingly brought upgrades to the last race of the season. Scuderia Ferrari brought an upgraded floor edge with the rearward portion curled upwards, while McLaren also brought a floor edge with skates, only for Free Practice, to collect data for the 2023 season. They also brought circuit-specific cooling louvres to meet the requirements for the hot track at Abu Dhabi. Any on-track testing for McLaren is imperative, as their wind tunnel's completion was pushed ahead to mid-2023, instead of being ready by this winter break.
Red Bull wins the DHL Fastest Pitstop Award
Red Bull won the DHL Fastest Pitstop Award for the 5th season in a row for their class-leading pitstops throughout the year. However, it is notable that they have had a few slow pitstops at Miami, Mexico and Brazil, mainly with wheel gun issues. However, McLaren has scored the fast pitstop this year, at a super quick 1.98 seconds.
Sebastian Vettel's last F1 Race Weekend (for now)
It was quite emotional across the paddock as everyone prepared to bid farewell to Sebastian Vettel who retires after this Grand Prix. George Russell swapped helmets with Seb, and Mick decided to run a tribute helmet for his father figure in F1.  At the Thursday press conference, Seb, Lewis and Nando reminisced the moments where they raced each other, as Lewis said that Seb would be back. And let's hope he will.
Sebastian auctioned many square shaped sections of his helmet where people could put their images on! He ran the special helmet the whole weekend.
The drivers went to a dinner at Hakkasan on Thursday, paid for by Lewis Hamilton, and gave us some memorable images of the class of 2022, 4 of whom won't be on the grid next year.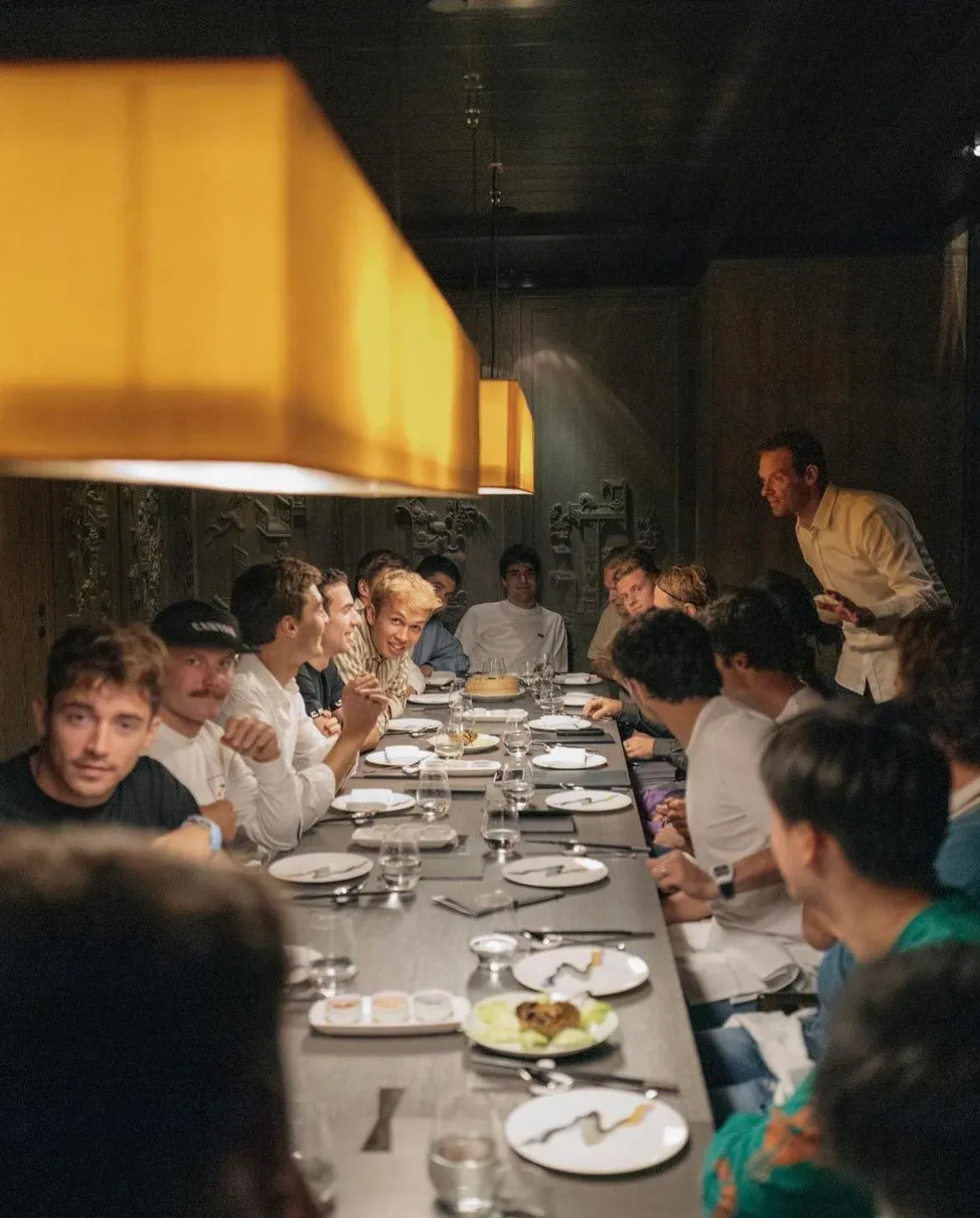 On Friday, the GPDA convened to, in the words of Alex Wurz, Chairman of the Grand Prix Drivers' Association (an F1 drivers' union of sorts) , to say "see you later" to Mick, Nicolas and Daniel, and of course to make a special presentation for Sebastian Vettel. They could be seen posing with the signature Sebastian Vettel finger gesture later!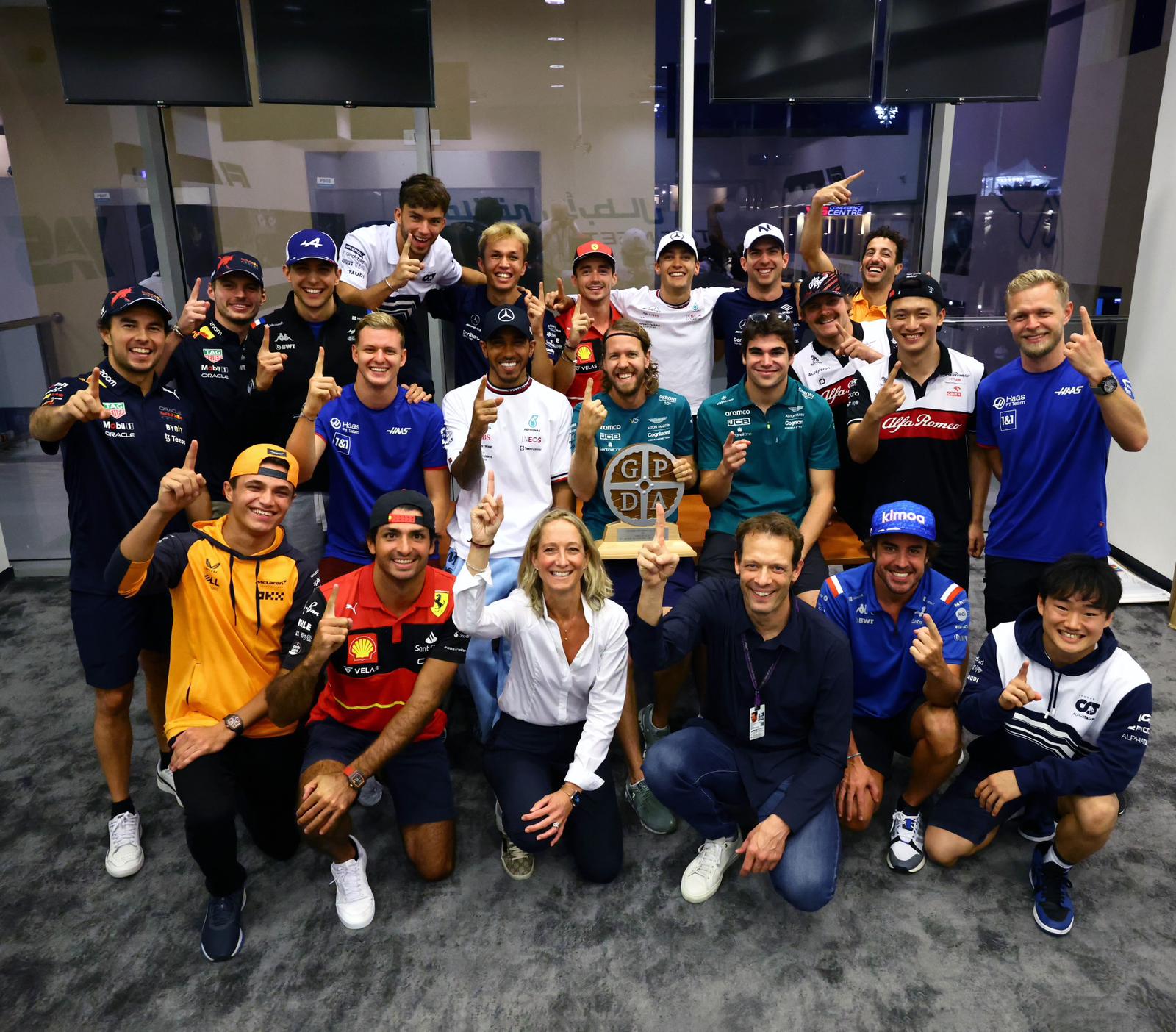 McLaren also gifted Daniel Ricciardo the race suit from his 2021 Monza Grand Priz win.
Announcements and Events

Announcements between FP1 and FP2

The Reserve Role at Red Bull Racing
Friday was full of announcements up and down the paddock. In an interview to various media sources, Helmut Marko, former F1 driver and current advisor of Red Bull Racing and head of the Red Bull Junior program, announced that Daniel Ricciardo would be Red Bull's third driver for the 2023 season, after the driver had a rather unceremonial falling out with McLaren over his performance earlier this year. He withdrew his statement a few hours later, without stating any particular reason. Later, he announced that Liam Lawson, who drove Max's car during FP1, would continue to be the reserve for Red Bull Racing and Scuderia Alpha Tauri, Red Bull's sister team, which it uses for training junior drivers.
At the press conference on Thursday, Christian Horner confirmed that Red Bull were in talks with Ricciardo and hadn't signed with him yet, and that Marko had announced it a bit too early.
The Launch of F1 Academy
Formula One announced a brand new feeder series and progression path for women drivers called F1 Academy in a press release, which is a welcome move to increase diversity in the sport and give women more opportunities in a sport that is predominantly male, with an all-male grid. The series will use a Tatuus T421 chassis, a 165HP turbocharged engine supplied by Autotecnica (notably weaker than the one W-Series, the current all-women motorsport series, uses), and tyres supplied by Pirelli, who also supply tyres to the rest of the F1 feeder series hierarchy.
Conclusions from the final F1 Commission
The fourth meeting of the Formula 1 Commission in 2022 convened on Friday, ahead of the last race weekend in this season, and had some notable announcements. The press release included some notable changes for the 2023 season, especially highlighting that the FIA would continue to refine and review it's regulatory and judicial process amongst other technical changes.
They addressed drivers' complaints about the increased spray from this generation of cars, which was especially dangerous in Japan this year, and commenced a study to combat this problem. They aim to study the usage of wheel arches to reduce spray by the tyres without hindering pitstops, exclusive devices specifically attached during wet weather and additional lights on the car to increase visibility. Since the 2022 cars produce most of their downforce from ground effect, they also plan to analyze the contribution of the underfloor tunnels to the spray generated by the cars.
A possible update to Power Unit infringement penalties was also discussed, to deter teams from breaching the current limits on those parts, which undermines the regulations capping them and increase costs. As the plan to abolish tyre blankets by 2024 continues, the commission decided to delay any final decisions to July 2023.
The Drag Reduction System (DRS) received a slight modification. During 2023, as a trial, F1 will move DRS activation forward one lap during sprint weekends only. Currently, at a race/sprint start or a safety cart/red flag restart, two laps are run without DRS before it is activated, but the new system plans to have only one non-DRS lap. If the results meet the standards of closer racing that they accept, this will be implemented for the entire 2024 season.
The forfeit allowance for damage during a Sprint race was increased from $150,000 to $300,000, whilst other allowances for the teams under Sprint regulations will be removed. Other minor amendments in the 2023 Technical and Financial regulations were unanimously approved, and following Guanyu Zhou's crash at the 2022 British GP at Silverstone, more stringent requirements for roll hoop strength are set to be introduced in 2024.
Sebastian's Forrest-Gump-esque run
To commemorate his last F1 weekend, Sebastian Vettel held a run with all of his fans around the track on Saturday. It was a delightful gesture from the F1 veteran.
Free Practice Roundup

Sebastian Vettel and George Russell swapped helmets before heading out for Free Practice 1.
FP1 for the Rookies
It was an eventful Free Practice One, as 7 rookie drivers and Robert Kubica took to the track. Lawson, Doohan, Sargeant, Fittipaldi, Shwartzman, Drugovich, O'Ward, O'Ward replaced Verstappen, Alonso, Latifi, Schumacher, Sainz, Stroll, Norris, Zhou in their respective cars.
It was a bad start to the session for Pato O'Ward, however, as he was one of the first drivers to take to the track, only to be marred with power issues on his outlap, and was instructed by the team to keep the car in second gear and bring it back onto the pits. The session also saw a lot of lockups and track limits violations as drivers took Turn 1. O'Ward's final run was blocked by Drugovich at the final corner as Drugovich moved away from the racing line at the last moment.
Sargeant also had a spin at turn 1 as he braked too late and almost hit the barrier, sliding over the high-grip tarmac which damaged his soft tyres making them unusable. However, his main objective in the session was to take another Super License point so that he can race for Williams next season, and he needed to complete 20 laps for that, which he did. He needed to complete above P6 in the F2 standings for the Super License, and he did that to secure his Williams drive for 2022.
Liam Lawson, who, due to his current tenure in F2 is used to stopping further, nearly missed the RBR pit-wall and had to be pushed back to it. McLaren was also running an experimental floor as detailed above, but the intent was to collect data for 2023. Red Bull ran sensors to presumably measure upwash on Sergio Perez's car during FP1 with the same goal.
Whilst their teammates were replaced by the rookies, Sergio Perez and Charles Leclerc were trading places at the top of the timing sheets lap after lap earlier in the session, which made for some interesting viewing, before the Mercedes of Lewis Hamilton and George Russell put in their soft tyre representative laps as well, topping the time sheets. Lewis Hamilton was, late into the session, impeded by Kevin Magnussen which he was visible frustrated about.
It was an emotional moment for Sebastian Vettel in the garage as his dad, Norbert Vettel, brought his first ever karting suit and helmet to the Aston Martin garage, a kit Seb didn't even know was preserved. Vettel later did say that it felt like he was back in 1995, and rightfully so. Thank you, Sebastian.
The return of the grid in FP2, and some representative laps.
As dusk set in and dropped the temperature at the onset of the next FP session at the Yas Marina circuit, the grip on the circuit increased considerably. Drivers who had lent their cars out to rookies for FP1 finally got some running in during this session, with both qualifying and race preparation.
Throughout the session, Max Verstappen reported brake issues and "spongy brakes", a term that is used to express that the brake feels looser and likely has some air stuck in its hydraulic system, often solved by bleeding the brakes, where the braking fluid is removed and then reinserted carefully.
Daniel Ricciardo reported feeling a slippery patch on the grid box, which the team confirmed and. It looks as if it was rebuilt/painted, and is significantly smoother than the rest of the pit-road. McLaren reported the issue to the FIA, as it could potentially hinder pitstop times giving them an unfair disadvantage over the competitors.
With Leclerc's race pace runs significantly slower than the competition, he asked the team 'Why are we so slow' on the radio, to which his race engineer's response was 'Our pace isn't good', quite in line with the quality of Ferrari's communication throughout the season.
Turn 6 saw a lot of drivers going wide or locking up, including Charles Leclerc, Sebastian Vettel and Alex Albon. As the session, came to an end, the top 3 positions on the chart were shared by the top 3 teams in the constructors, a promising end to the season and hopefully a sign for multi-team title fights in 2023.
A quick FP3, and lots of track limits violations
On Saturday's sunny, warm afternoon at the Yas Marina circuit, drivers put in their final non-Parc Fermé laps in, as they worked on refining their setups.
After McLaren's request to the FIA to sort out the slippery patch at their pitbox, the entire pitroad was modified by removing a bit of the concrete off the top, leading to there being a lot of dust on the road which caused a few drivers to lose grip on it a few times.
In an absurd incident, Pierre Gasly's over-wheel winglet (aka Flow Deflector) suddenly flew off his front right tyre, breaking the wheel rim and damaging the tyre in the process. AlphaTauri have, at the time of writing, not given the reason to why this occurred and are investigating.
The debris due to Pierre's incident meant that the session had to be red flagged, during which Lewis Hamilton did not slow down correctly at Turn 5 and was investigated for it. Lando Norris informed his team over the radio that Hamilton had also overtaken a Haas during the duration of the red flag, which is a violation of the regulations. However, from Hamilton's onboard, it's quite apparent that he could not have slowed down in time to not overtake Norris' McLaren and the Haas ahead, since he was extremely faster than them, with him being on a hotlap while the others were on cooldown laps. He was not given any penalty for this incident after the FIA reviewed it.
Alex Albon had a close call with Lando's McLaren down the straight as they almost came together. Commentators on multiple streams misjudged the driver involved since Albon's helmet had the name Latifi on it, intended by him to commemorate his teammate's last weekend in F1, as things stand.
As the session drew to a close, Sergio Perez topped the timing charts with Verstappen at a close second, with the latter having committed a track limits violation on his fastest lap at Turns 5 and 6, while the Ferraris only finished P6 and P7, with Charles Leclerc complaining about his low pace and a lot of degradation at the first 4 corners.
Free Practice data should be taken with a grain of salt, however, since we do not know what fuel weights the teams are running, what their setups are and if they're maximizing their car's potential or not.
Qualifying

An exciting, crowded Q1
As the cars went out on the coolest session all weekend, with a track temperature of 33°C, tyre warmup was a priority. The Aston Martins of Lance Stroll and Sebastian Vettel, who is driving his last F1 Qualifying (for now), went out first and had an empty track to themselves to set representative laps right at the beginning.
Max Verstappen broke his headrest during his first hotlap and had to box to replace it. Despite setting the quickest time in the session, he locked up in his last run at Turn 1, and could not set a better time.
Throughout qualifying, drivers were absolutely on the edges with track limits, with Alex Albon losing his time due to a violation.
As all the drivers went out to set their final times in the last 3 minutes and leverage the track evolution, there was a lot of traffic at the last corner, as all cars almost came to standstill trying to create a gap behind them.
An issue-rich Q2
Mercedes was the first to go out in Q2, presumably in the pursuit of clean air and no traffic. However, Lewis Hamilton complained about his brakes not being up to par on both his first outlaps, an issue the team had to fix later on.
The top runners preferred used tyres to save the freshest softs for Q3.
Max had a subpar Q2 as he was sliding around at slow corners, with his rear being especially unstable. On the other end, Sebastian found himself blocked by Sergio Perez on multiple runs, costing him about a tenth at the last corner. But he managed to finish P7, and Daniel Ricciardo managed to be P10, with Mick only P10 and knocked out again.
The fastest session of the weekend at Q3
The Mercedes pair was the first to go out first again on used softs, and set in quick times. They left a lot to be desired, so the pair swapped to a new pair later on.
Drivers were also extremely lenient with track limits, extracting every single inch they could, as this tweet from Sam Collins (the F1TV analyst) shows.
Sebastian was affected by Perez once again, and was visibly and justifiably frustrate by it, with his best lap only getting him a P9, equaling his best qualifying finish of the season. However, he did say he enjoyed every Qualifying lap he set, and rightfully so.
For their first runs, Max was supposed to give Sergio a tow but due to an issue with Max's pit exit, he was behind Perez for the first run. However, for their second runs, Max and Sergio were in the right order and Sergio got a tow throughout the lap but could only finish P2, with Max securing his 7th pole of the season.
It was quite a unique result, with Red Bull Racing locking out the front row (their first since 2018!), Scuderia Ferrari locking out the second row and Mercedes locking out the third row, with Ferrari locking out the last row. It was a heartbreaking statistic for Lewis Hamilton, though, as he missed out on pole for the first time in his career.
Pre-Race
As the drivers arrived onto the track on Sunday, a guard of honor was held for the legendary Sebastian Vettel, as the grid bid farewell to the 4 time WDC who is leaving the sport (but hopefully chooses to return)! The drivers also lined up for a photograph, and gave Sebastian a warm welcome as he joined them!
The Grand Prix
Max Verstappen and Sebastian Vettel swapped helmets before the race, and so did Zhou Guanyu, to bid farewell to the respective drivers.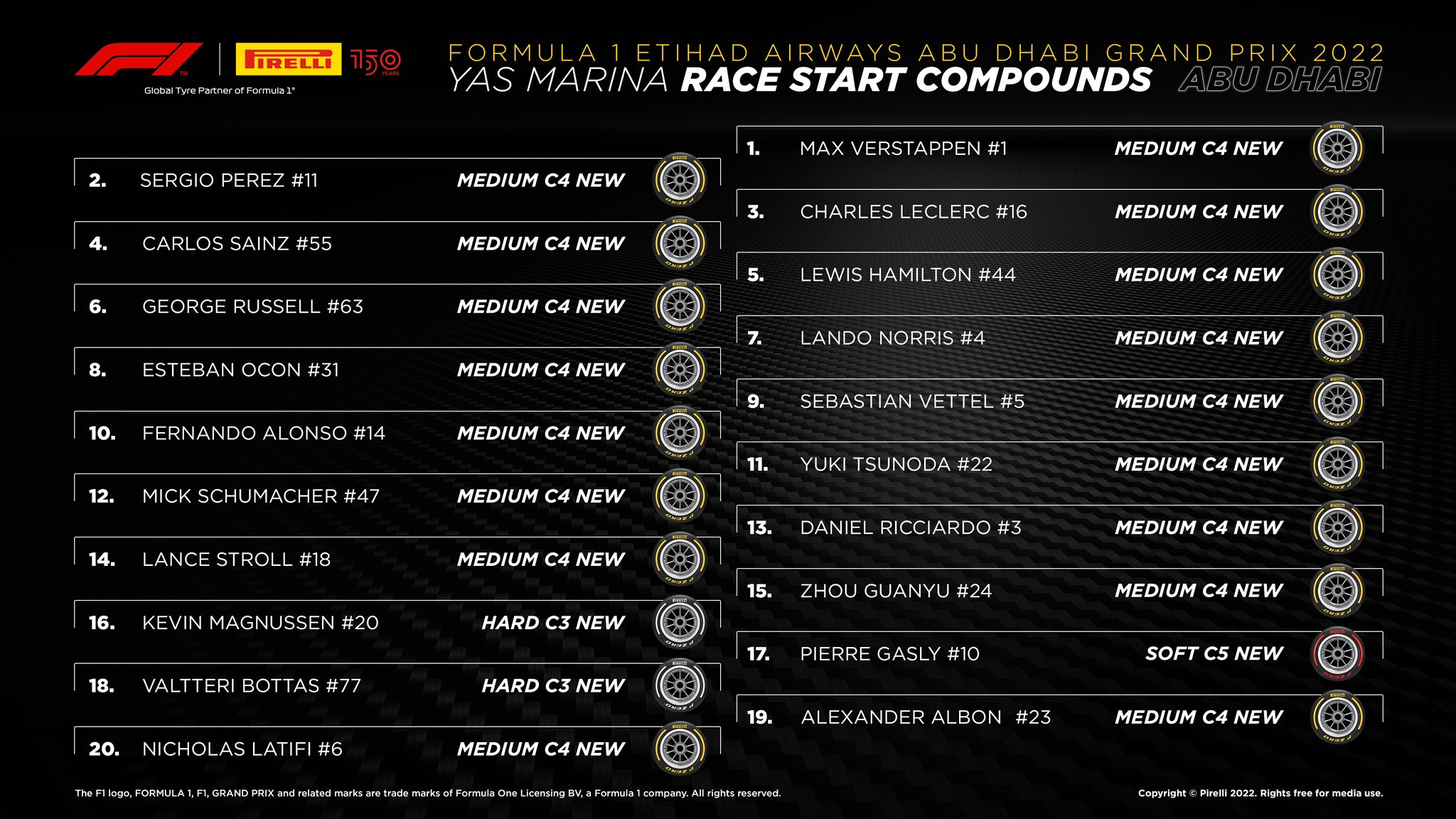 The grid lined up for the formation lap with most drivers on new Medium tyres, with Kevin Magnussen on Hards and Pierre Gasly on softs, as they prepared for the race start, which would Valterri Bottas' 200th. As the lights went out as the sun went down at Abu Dhabi, , Max got an impeccable start and so did Perez behind him, as the 2 Red Bulls led the two Ferraris (who were running low downforce rear wings) away from Turn 1. Lando Norris took the opportunity to gain a place from George Russell, as Lewis Hamilton and Carlos Sainz scrapped down through turn 6, where Lewis went wide like he did last year in his lap 1 battle with Max but Carlos was absolved of any wrongdoing in terms of pushing Lewis off the track, and Mercedes instructed Lewis to hand back the position while they weren't told to do so. The incident did seem to affect Lewis' car quite a bit, though, as we'd later find out.
The race also saw a lot of drivers exceeding track limits, with Gasly and Hamilton receiving black and white flags for exceeding them 3 times. Perez suffered high degradation on his mediums after fending off pressure from Charles Leclerc as Max Verstappen pulled off a huge lead early on. Perez then chose to pit, moving to a two stopper.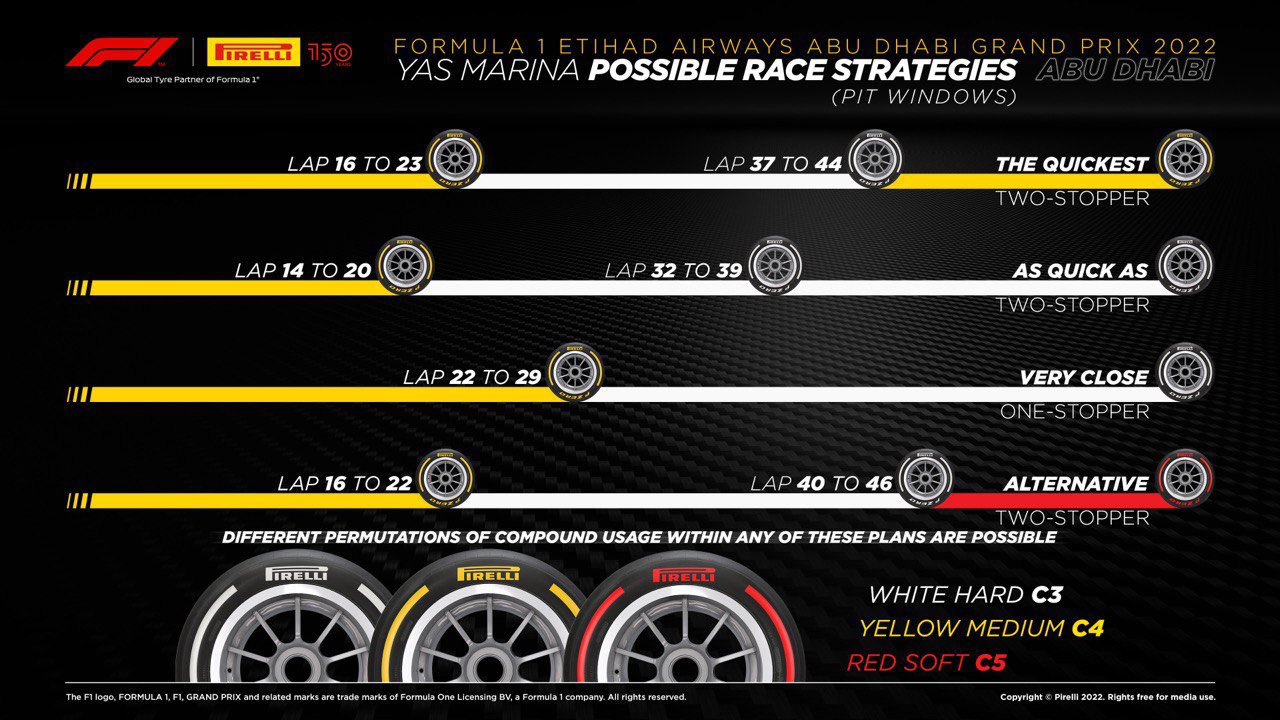 It was a unique race for strategies, as the one-stopper and two-stopper were very close on pace up and down the grid, albeit working for some cars better than the others. After pitting early, Perez could achieve the last two stints on hards or softs, as he only had one medium left for the Grand Prix. Both of his outlaps were a disaster, however, as he got stuck behind other cars as he left the pits, despite having quick pitstops at 2.4s both times. He was stuck behind Lewis Hamilton for a while, with a battle that looked a lot like a shot to shot remake of Perez' defense against Hamilton last year, and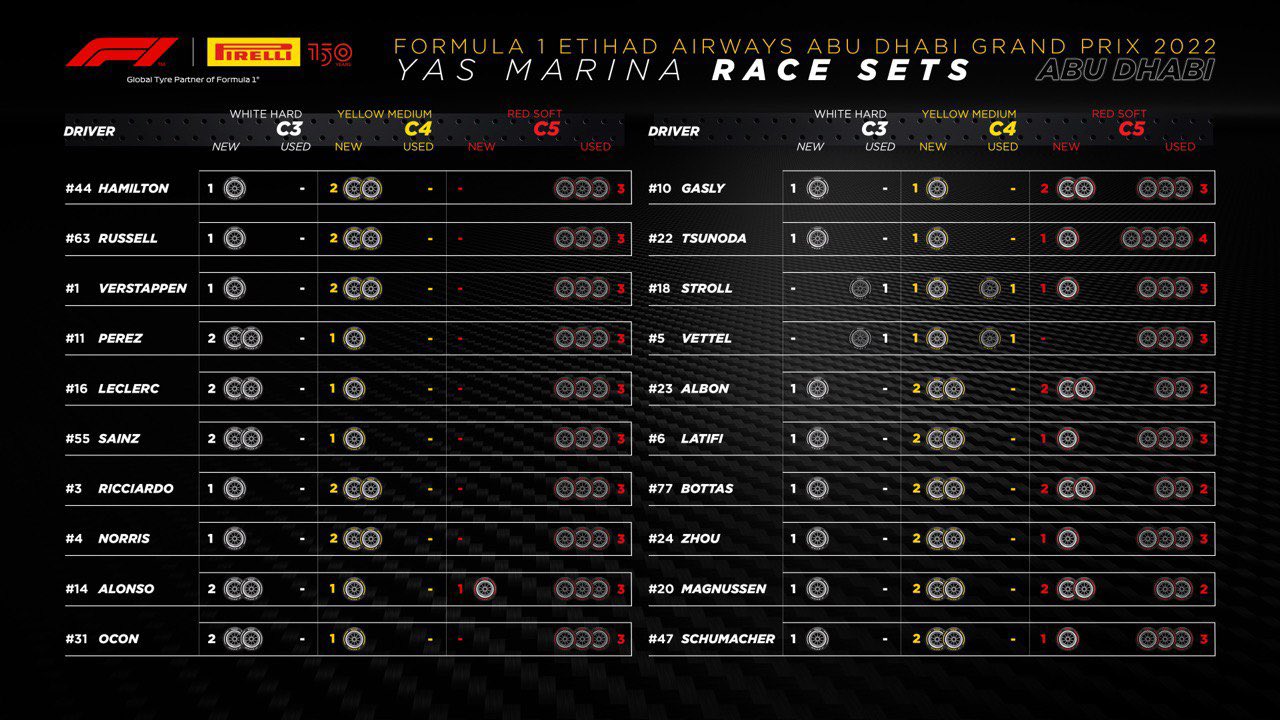 George Russell decided to go for a two stopper, but had a slow first stop with an unsafe release into Lando Norris' way that earned him a 5 second penalty, which he had to serve at his next stop. Lewis Hamilton reported floor damage as Mercedes decided to split strategies and put him on a one-stopper. Sebastian Vettel, on his last Grand Prix (for now), also went for a one-stopper, running the longest medium stint of them all, and later lamented the strategy call as he was passed by drivers on every lap. When he eventually pitted, Sebastian had a slow stop at 4.1 seconds, and had a rear lockup at the pit exit line as he pressed the wrong button before correcting it, losing him some time.
Max Verstappen reported engine braking issues, but they did not seem to have any considerable effect on his pace. Fernando Alonso, however, was told to retire the car, in a season with a really unreliable Alpine that had a lot of DNFs.
Mick Schumacher tried to have a lunge down the apex to pass Nicholas Latifi at turn 5, but misjudged the move as he had contact with Nicholas, sending them both into a synchronized spin, a sad moment as both drivers will not be racing in F1 next year. Mick was given a 5 second time penalty for his collision. He could continue while Nicholas had to retire.
Sebastian Vettel passed Zhou to secure P11, as Stroll, who was following Vettel, tried to to pull off the same move on fresh mediums but went wide and off the road and had to return the place before overtaking Zhou again and then Sebastian Vettel.
On lap 56, Lewis Hamilton retired due to a hydraulic failure, presumable due to going over the kerbs at the incident on lap 1, but could make it back to the pits, in his first technical DNF since Austria 2018. However, this race ended his streak of winning a race in every season of F1 that he took part in.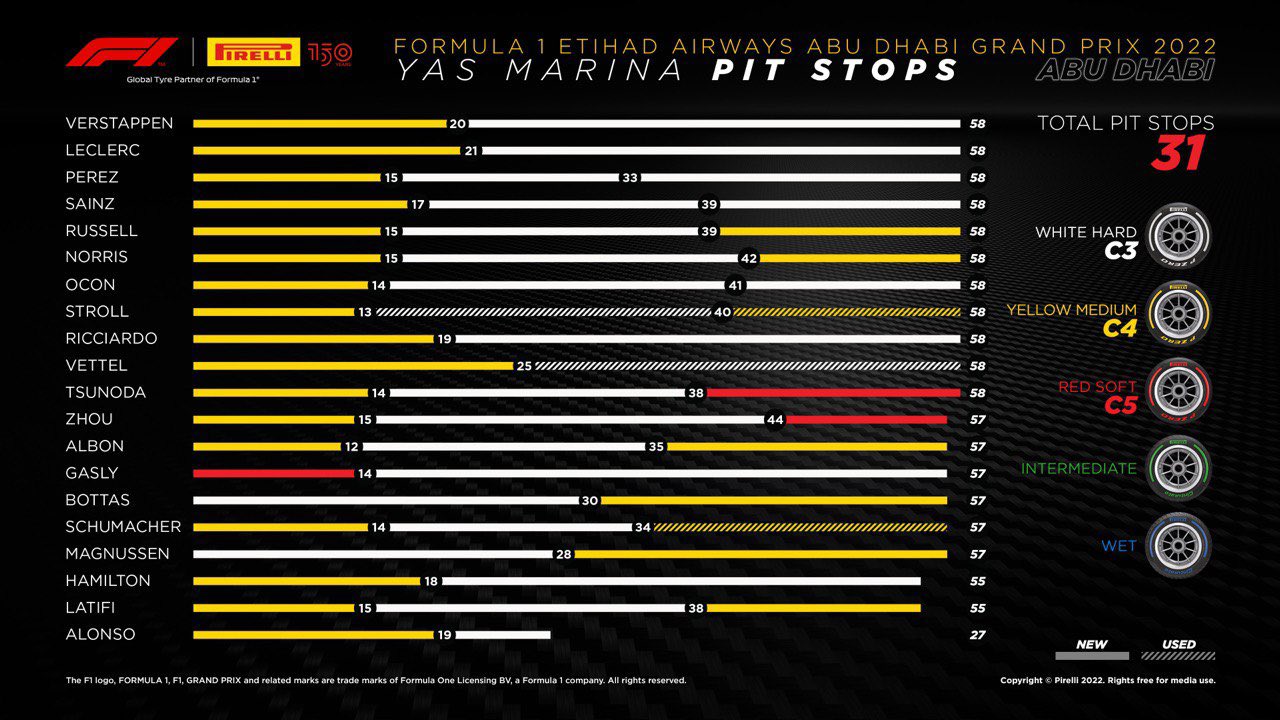 The last 10 laps were tense at the Red Bull and Ferrari pit-wall though, as the battle between Leclerc and Perez raged on, with the former on a one-stopper. Max told his team over the radio radio to "tell Checo to go full send" and that the hard tyres could take it, and that's what Perez did, going almost a second faster per lap for 10 laps, as he finished just 1.3 seconds behind Leclerc, slightly impeded by the backmarkers Albon and Gasly who were fighting their own battle and delayed letting him by after blue flags. It was right down to the line as an Leclerc managed his tyres while pulling every last bit of pace out of them to finish P2 and secure his P2 spot in the constructors' championship as well, edging out Perez by a meagre 3 points, and Leclerc was visibly exasperated after that Grand Prix. Lando Norris stole the point for fastest lap and a P6 finish in the race. Sebastian Vettel finished P10, scoring a point on his final race in F1, just as he began, as Daniel Ricciardo finished P9 just ahead of him.
Verstappen crossed the line to won his 15th race of the season with a plethora of fireworks going off, breaking Vettel's and Schumacher's record of 13 wins in a season, as Sebastian won the Driver of the Day award by a record breaking 56.6%.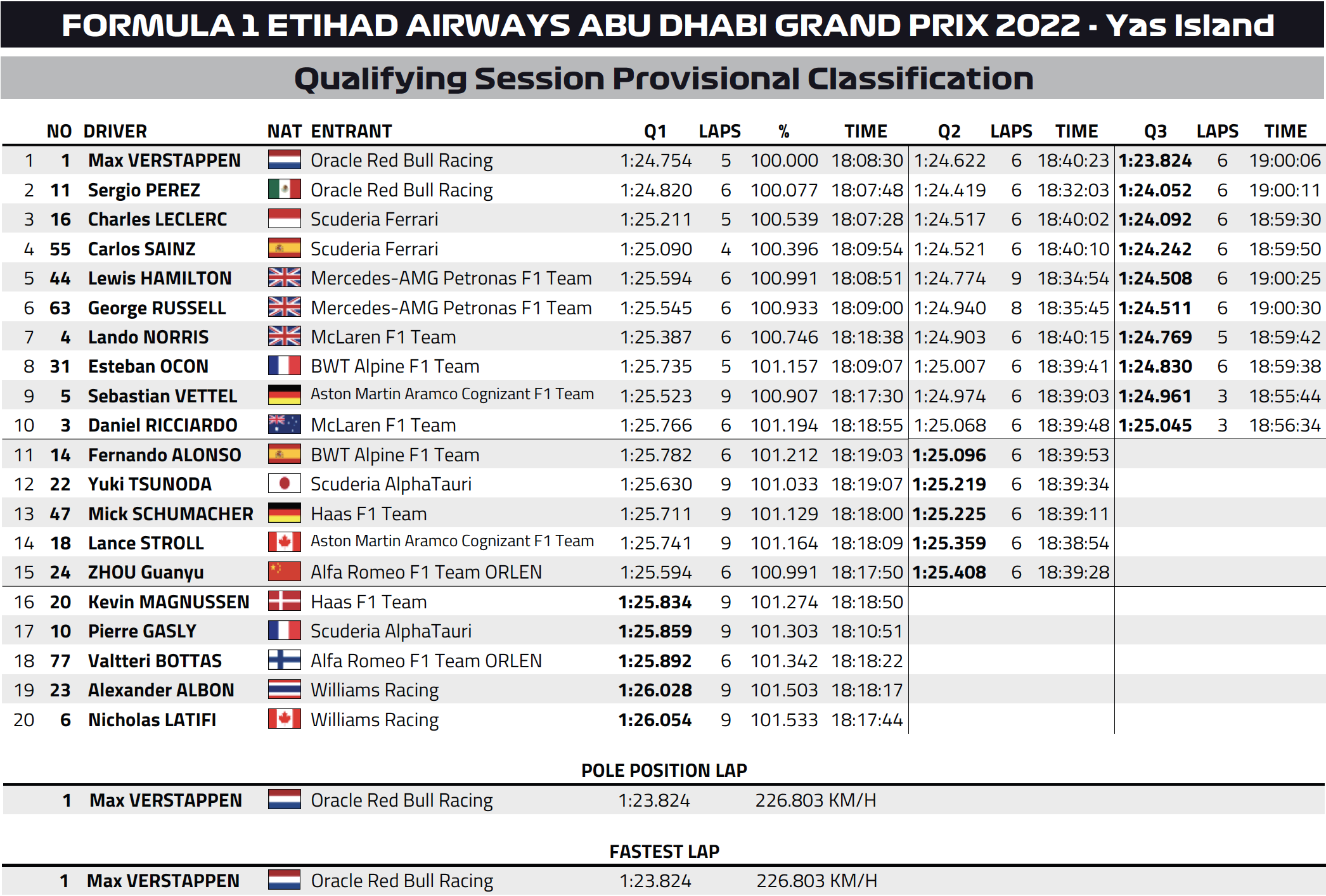 In a notable addition, medals were awarded medals alongside the trophies on the podium, as drivers usually do not get to keep the trophies because the teams do.
Post Race
It was an emotional post race mood, as Max and Leclerc (who choked on water while talking to the team on radio because of pressing the drinks button by mistake) headed to the pit straight to perform a few donuts celebrating the season and to commemorate Sebastian Vettel. Max was told to take care of the car and tyres will doing so, considering the hards had significantly worn out, but he replied with a cheeky line, "A li'l smoke won't hurt anyone". Sebastian arrived onto the scene later to perform his own donuts and give the audience what they wanted!
Lando Norris and Daniel Ricciardo also performed donuts, as Lando bid his teammate farewell and McLaren gave Daniel a special dashboard commemorating his Monza win in 2021 on the cooldown lap!
Sebastian was also given a great send off by the fans as he rolled on to the grid, and stepped out of the car for an interview with Jenson Button after his donuts.
Mick Schumacher also performed some donuts but was told to stop by the Haas F1 team as they "just can't". Heartbroken, he responded with a "It's alright. I uh... love you too."
Nyck de Vries was "ceremoniously" delivered to the AlphaTauri F1 team by the Mercedes squad (removal of Debris, eh?) on a trolly (after being dunked in the Marina) as he prepares to replace Pierre Gasly at the team next year, as Pierre moves to Alpine to replace Fernando Alonso who moves to Aston Martin and already left for the Aston hospitality after his farewell at the Alpine garage.
Championship Standings
Constructors' Championship
It was a tight battle for the constructors' championship, a challenge worth millions of dollars in prize money as the teams headed to Abu Dhabi.
After a point-less weekend for Alfa Romeo and both Sebastian Vettel and Lance Stroll scoring points for Aston Martin, they were tied on points, but Alfa Romeo finished ahead due to Valtteri Bottas' P5 finish in Imola earlier this year. Sebastian Vettel did try to overtake Daniel Ricciardo which would have secured them a P6 position in the constructors, but failed to do so.
With both AlphaTauri and Haas finishing way outside the points, Haas edged their rivals out by just a couple of points to score P8 in the constructors', having a much better season than they did the last 2 years.
Alpine and McLaren were very close heading into the weekend, but Alpine edged out McLaren for P4 in the championship despite their poor reliability this season.
Mercedes were close to challenging Ferrari for P2 in the standings but Lewis' performance and underwhelming race pace saw them fall short of that target by a margin, and both teams were way off of Red Bull, who complete 205 points ahead of Ferrari. However, considering they will get more wind tunnel time next year for P3 in the standings, it'll probably be a net benefit for the team, who struggled with the W13's fluctuating pace all year.
Driver's Championship
Leclerc beat Perez for P2 by just 3 points as they crossed the line, while George Russell outscored Carlos Sainz by a huger margin, despite the latter having an arguably faster car this year, albeit with poor reliability. Sainz beat Hamilton out in the last race by just 6 points, but a whopping 118 points above Lando Norris, who secured the "best of the rest" result outside the top 3 teams.
While Alpine beat McLaren in the constructors' standings, both their drivers scored less points than Lando Norris, with Ocon scoring 92 points and Alonso 81, with the latter being marred by extremely poor reliability all year, with a lot of mechanical DNFs, as Valterri closed the constructors' championship at 49 points.
Daniel Ricciardo and Sebastian Vettel tied at 37 points, with Daniel just catching up to Seb by finishing P9, and being ahead because of his highest ranking race result, with a terrible season for the McLaren driver, one that saw him lose his seat with McLaren and a premature contract termination. Kevin Magnussen outscored Pierre Gasly by just 2 points in the championship as they both finished outside the points at Abu Dhabi. Mick Schumacher and Yuki Tsunoda tied at 12 points each, ahead of Zhou Guanyu who was awarded the "Rookie of the Year" award, being the only rookie this year. Alex Albon outscored both teammate Nicholas Latifi and reserve driver Nyck De Vries, who were tied for points, with Nyck having only one outing in the car at Monza, a showing impressive enough to earn him a formula 1 seat at AlphaTauri for 2023.
Nico Hulkenberg, who will be returning to the grid with Haas next year, scored zero points after he stood in for Sebastian Vettel during the first two Grands Prix of the season, with the latter being affected by COVID during the duration.
---
Danke Seb. Here's to hoping you choose to return soon!
---
Disclosure
This article is entirely sponsor-free. This website is self hosted and does not generate any revenue. The only user-data is collected by the owners except the default data collected by Cloudflare is page visits and origin country data (for analytics). You aren't and will not be served ads on this page, ever.
This website is unofficial and is not associated in any way with the Formula 1 companies. F1, FORMULA ONE, FORMULA 1, FIA FORMULA ONE WORLD CHAMPIONSHIP, GRAND PRIX and related marks are trade marks of Formula One Licensing B.V.
Any product names, logos, brands, and other trademarks or images featured or referred to within the app are the property of their respective trademark holders. These trademark holders are not affiliated with Race Debrief or its contributors. They do not sponsor or endorse Race Debrief.
"F1 TV®️", "Formula 1®", "F1®", "Alfa Romeo®", "AlphaTauri®", "Alpine®", "Aston Martin®", "Ferrari®", "Haas®", "Haas F1 Team®", "McLaren®", "Mercedes®", "Red Bull®", "Red Bull Racing®", "Williams®" are trademarks of their respective owners and are not affiliated, endorsed, connected or sponsored in any way to this website.