Analysis
Aston Martin's Magical Start to 2023
Aston Martin has taken the biggest step relative to the grid in 2023. But as the team that only managed P7 in the Constructors' standings in 2021 and 2022, how did they get here?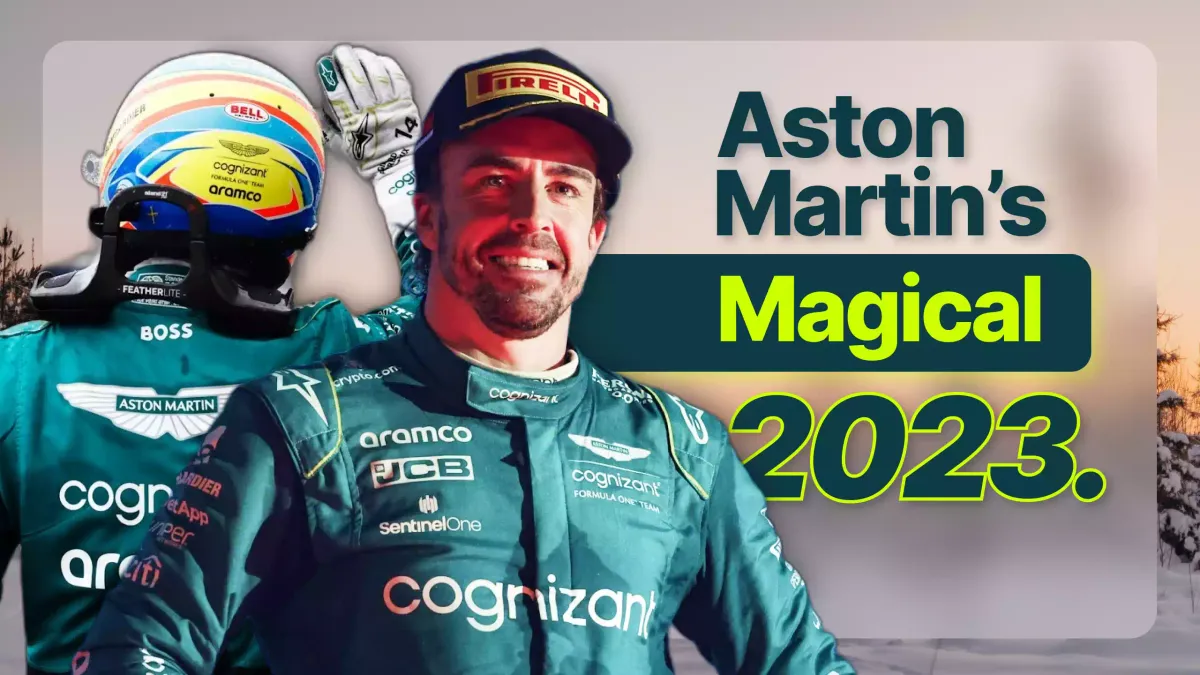 AI Summary
Aston Martin's 2022 concept drew attention due to its similarity to Red Bull's RB18, leading to suspicions of a potential transfer of secrets.
Fernando Alonso joined Aston Martin after a heated season with Alpine, and expressed optimism in the team's plan to fight for Championships in the near future.
Aston Martin showcased innovative designs during the season, including a double T-tray and a unique rear wing design, which were later outlawed in the regulations for 2023.
Aston Martin surprised the paddock with their strong performance in the 2023 Bahrain Grand Prix, with Fernando Alonso finishing in third place despite being hit by Lance Stroll.
The team's history includes successful periods as Jordan Grand Prix, Force India, and Racing Point, with Lawrence Stroll taking over and rebranding the team to Aston Martin in 2021. They have set ambitious goals and made significant investments to accelerate their path to championship contention.
A Rather Interesting 2022
When Aston Martin brought a significant overhaul to their concept in Barcelona during the 2022 season, it drew quite some attention from the other teams in the paddock, most importantly because of its remarkable similarity to Red Bull's RB18. Considering that Red Bull's former Head of Aerodynamics Dan Fallows had just joined the team a month earlier as the Technical Director at the end of his gardening leave, there was a bit of suspicion and around the paddock of a potential transfer of secrets. Red Bull's pitwall even featured green cans of their drink, which was probably either a coincidence or a clever gag by the ever sassy marketing team.
While the allegations would be quelled after an FIA investigation that would reveal that Aston Martin had worked on a similar concept since late 2021, it did put Fallows' name out there as someone to look out for. In interviews that he'd go on to give that season, Fallows stressed that the team's 2023 contender would be much better as the team would gradually move into and adopt its new state of the art facility in Silverstone with all new equipment and resources, bankrolled by team owner Lawrence Stroll.
After Sebastian Vettel announced his retirement midway through the season, the seat would be taken up by Alpine's Fernando Alonso after a rather heated season with the team based out of Enstone and Viry. It did set off a particularly ridiculous chain of events with Piastri's contractual situation, but on the other hand, it was a move rather widely criticised for being a downgrade from the team that had been P4 in the Constructors' standings. It was reported that Nando (short for Fernando) wanted a longer contract than Alpine were willing to sign with him, and it played a key role in him making a switch. In a statement to the press, he expressed optimism in Aston Martin's plan and vision to fight for Championships in the near future and a willingness to play a key role in that transition.
While it lacked pace compared to the rest of the grid, the team did show some awe-inspiring innovation throughout the season, include the double T-tray and a rather peculiar, more traditional rear wing design which teams praised but were hesitant to copy due to the budget cap, and which would later be outlawed in the regulations for 2023.
The Turnaround in 2023
Most teams worked hard over the winter to adjust their cars to the modified regulations for 2023, the most important ones being a significantly higher ride height which would reduce the significance of the ground effect in producing the car's downforce and move it back to the wings, and allowing a bit more leeway in terms of aerodynamic outwash.
Most analysts expected a continuity of the 2022 pecking order once again, with a little rearrangement around the rather close lower end of the midfield. There were a few murmurs of major engine gains and of a much faster car from Maranello, but when do they not?
Car launches began in late January, with some teams like Alfa Romeo, Mercedes and Aston Martin choosing to show their real cars while others like Red Bull preferred to don a veil of secrecy. But all most people could do was speculate until the cars hit the track at Bahrain for the year's pre-season testing.
Astonishment in Bahrain
As the teams arrived in Bahrain to set everything up, there was a rumor floating around the paddock that alleged that Lance Stroll from Aston Martin had suffered a wrist fracture, only to be confirmed in the leadup to the test and was replaced by 2022 Formula 2 Champion Felipe Drugovich, one of Aston Martin's reserve drivers.
What most teams didn't expect is the blitzing pace from the Aston Martin AMR23, which was on par with the Ferraris and Mercedes on race pace simulations. Many chalked it up to low fuel runs (because a lighter car is faster) and so on, but one man in that garage was beaming. A man who had spent a decade away from the top step of the podium, Fernando Alonso. They had everything to fight for in the first Grand Prix, and to convert the hype into something tangible.
Coming into the first race weekend, Alonso was P2 in Free Practice 1 and P1 in Free Practice 2 and 3, setting the Formula 1 fandom ablaze with hype. Come qualifying, Fernando would only be P5 with Lance in P8, but the Aston garage was full of optimism since this was much better than most of their results in the previous season, and with promising race pace from the long runs in free practice.
Fernando has always been great at race starts, and Bahrain was no exception. While he was hit by Lance at Turn 8, he used the Aston's amazing race pace to overtake other cars one by one, and could extend his stints with significantly lower degradation. A couple of clever overtakes past Lewis Hamilton and Carlos Sainz saw him finish P3, with Lance in P6 despite all his injuries.
The team that fought to just be in the points in the previous season was now on the podium on merit. And it was just a sign of things to come.
It wasn't a one show wonder. So far, the team has been scoring consistent points and podiums with Fernando and a few points with Lance as well!
A History of the Team
The team based out of Silverstone has quite a long history of punching above its weight. Founded by Eddie Jordan in 1991 as the Jordan Grand Prix team, the team scored 13 points in its debut season, finishing fifth in the constructors' standings, a remarkable achievement considering there were 12 teams on the grid back then, and only the top 6 cars were awarded points. While the lack of capital or the resources compared to that of a works team kept them away from championship contention, the team had its moments in the sun with Rubens Barrichello's podium at the 1994 Pacific Grand Prix in Aida, Japan and a race win with Damon Hill at the 1998 Belgian Grand Prix, the best result in the team's history, being a 1-2 finish with Ralf Schumacher in the other Jordan Mugen Honda. An eccentric character, Jordan was the team principal to give Michael Schumacher a debut in Formula One at the behest of Mercedes in 1991 at the Belgian Grand Prix, and later negotiated a deal with Benetton to transfer Michael to their team. (And he took a payday for both!).
Prior to the 2005 season, Jordan sold the team to the Midland group, and the team retained the Jordan name for another year before rebranding to the Midlands F1 (MF1) team in 2006, only to be sold to the Dutch company Spyker for the 2007 season. Later that year, the Spyker F1 team was sold to a consortium named "Orange India" led by Indian businessman Vijay Mallya and Dutch entrepreneur Michiel Mol. The team was renamed Force India for the 2008 season, and Otmar Szafnauer was brought in as the team principal in October 2009.
Under the Force India banner, the team was known as one of the most efficient teams in terms of money, pulling out some special performances from the bag on their day, and consistently fighting in the midfield. The 2016 Force India season was the most successful season in the team's history up to that point, as they finished fourth in the Constructors' Championship with 173 points.
Team co-owner Vijay Mallya, was not so efficient with his spending, and was found to have financed his extravagant lifestyle on debt from multiple Indian banks, and was embroiled in multiple lawsuits regarding the same, resulting in the team entering adminstration in 2018, threatening the livelihoods of over 400 team members in the process as well as the existence of the team. However, given the team's rich history of success, it found many potential buyers, including consortiums led by billionaires Lawrence Stroll and Dmitri Mazepin, with both having a vested interest in owning a team to give their respective sons Lance Stroll (who was an F1 driver with Williams) and Nikita Mazepin (who was competing in GP3). Ultimately, the consortium led by Stroll outbid the rest, rebranding the team to Racing Point. Lawrence moved his son over to his own Formula 1 team, from his place at Williams, replacing Force India driver Esteban Ocon who was basically forced out of the grid.
Under the leadership of the fashion tycoon, the team saw a significant increase in funding. They finished seventh in the standings in 2019, but would see a turnaround in 2020 with their now infamous "Pink Mercedes", a near part-to-part clone of the 2019 championship winning Mercedes AMG W10. This caused quite a ruckus up and down the grid, with many teams protesting the move. While most of it was quite legal, they were found guilty of copying the brake ducts used by Mercedes in 2019 and were therefore fined £400,000 and stripped off 15 points in the Constructors' championship. Despite that, they finished fourth in the constructors' standings, with a remarkable P20 to P1 win for Sergio Perez. During the same year, Lawrence Stroll would lead another consortium to take over the Aston Martin Lagonda brand and would become the Executive Chairman, only to brand the team to the Aston Martin Formula 1 team for 2021. They signed Sebastian Vettel alongside Lance for the 2021 season, leaving Sergio without a seat, being the second time they'd do this to a driver in 3 years. However, it turned out to be quite lucky for Sergio as he got a seat with the Red Bull team, who were gearing up for championship contention the next year.
Frustrated with the rather outdated infrastructure, the team also began work on a state of the art $200M factory in Silverstone in 2021, with a brand new wind tunnel to go along. While this would not impact their 2021 season, where they would finish P7 in the standings despite a podium at Baku and almost another one at Hungary before disqualification, it showed the team's vision to build up to championship contention.
Ambition and Targets
(Partially Opinionated)
Formula One is primarily an engineering exercise, but like most sports, advertising pays the bills. "Win on Sunday, sell on Monday" has been a popular summarisation of this phenomenon for decades now, and it remains true to this day... Or does it?
With the current Concorde agreement, there can only be 12 teams on the grid, with the current grid consisting of 10 teams. With F1's recent rise in popularity, that has given each team a considerable amount of visibility. This has opened a window of opportunity for teams lower down the pecking order as they've gained some brand value as well. One of the teams that has perhaps best capitalised on this wave has been Haas, who are content with just surviving as a (lower) midfield team as long as they get enough brand visibility that the CNC/Industrial Equipment brand also run by Gene Haas benefits off of the global advertising.
For some teams, this has waned off the motivation to win on Sunday. Participating in Formula 1 is expensive, and winning, significantly so. So why spend more when you can achieve much of what you desire for much lesser? The Alpine (aka Renault/Lotus) team has a history of setting ambitious targets without adequate funding or a proper management structure to back it up, which always results in the fabled "5 year plan" getting a renewal or an extension.
Aston's strategy, it seems, is to accelerate the revival of the car grand by the marketing themselves using their success (instead of just a presence) in F1. It helps that Lawrence has been a racing enthusiast for decades now with close ties to Ferrari (he has owned a Ferrari dealership in Quebec), and as the owner of Mont-Tremblant circuit in Quebec since 2000. Earlier this year, Lawrence told investors and media that introducing the Aston Martin Vantage as the alternative Safety Car in the sport already drove up sales for the on-road model.
Investment and Talent
With their ambitions set, the team went on a hiring and retooling spree, including a new factory, a new wind tunnel, and poaching top talent from various teams up and down the grid. They hired multiple talented engineers and staff from higher up the grid, including Mercedes' Eric Blandin and Red Bull's Dan Fallows as the Chief Aerodynamicist and Technical Director respectively. Fallows could only join a couple of months into the 2022 season since he was put on a gardening leave by his former team, a period of time during which an employee is still under contract but not working, which prevents them from working for a competitor. According to Fallows, Aston quadrupled his salary.
The Path Ahead
The team had set its sight to be ready for championship contention by 2025/26, but were in for a pleasant surprise earlier this year. Having moved into the new factory, they will probably accelerate those plans a bit further if they can afford to under the cost cap. They benefited from the wind tunnel advantage for the first half of the year as well, which will wane significantly as the ranking and allocations are reset for the second half of the season. However if the current trajectory is any indication of what's to come and their new upgrades end up performing well, Red Bull might finally see some competition.
---
Disclaimer
The AI summary is the only LLM (AI) generated content in the article. The rest has been written (and titled) by a human (i.e, the author).
This article is entirely sponsor-free. This website is self hosted and does not generate any revenue. The only user-data is collected by the owners except the default data collected by Cloudflare is page visits and origin country data (for analytics). You aren't and will not be served ads on this page, ever.
This website is unofficial and is not associated in any way with the Formula 1 companies. F1, FORMULA ONE, FORMULA 1, FIA FORMULA ONE WORLD CHAMPIONSHIP, GRAND PRIX and related marks are trade marks of Formula One Licensing B.V.
Any product names, logos, brands, and other trademarks or images featured or referred to within the app are the property of their respective trademark holders. These trademark holders are not affiliated with Race Debrief or its contributors. They do not sponsor or endorse Race Debrief.
"F1 TV®️", "Formula 1®", "F1®", "Alfa Romeo®", "AlphaTauri®", "Alpine®", "Aston Martin®", "Ferrari®", "Haas®", "Haas F1 Team®", "McLaren®", "Mercedes®", "Red Bull®", "Red Bull Racing®", "Williams®" are trademarks of their respective owners and are not affiliated, endorsed, connected or sponsored in any way to this website.