Opinion
OPINION: Sprints can work... Or can they?
The Sao Paulo Sprint at Brazil gave us a very fun short race, with some exciting action on every lap. The sprint weekend format is not exactly the most popular amongst F1 fans... So what made that one different?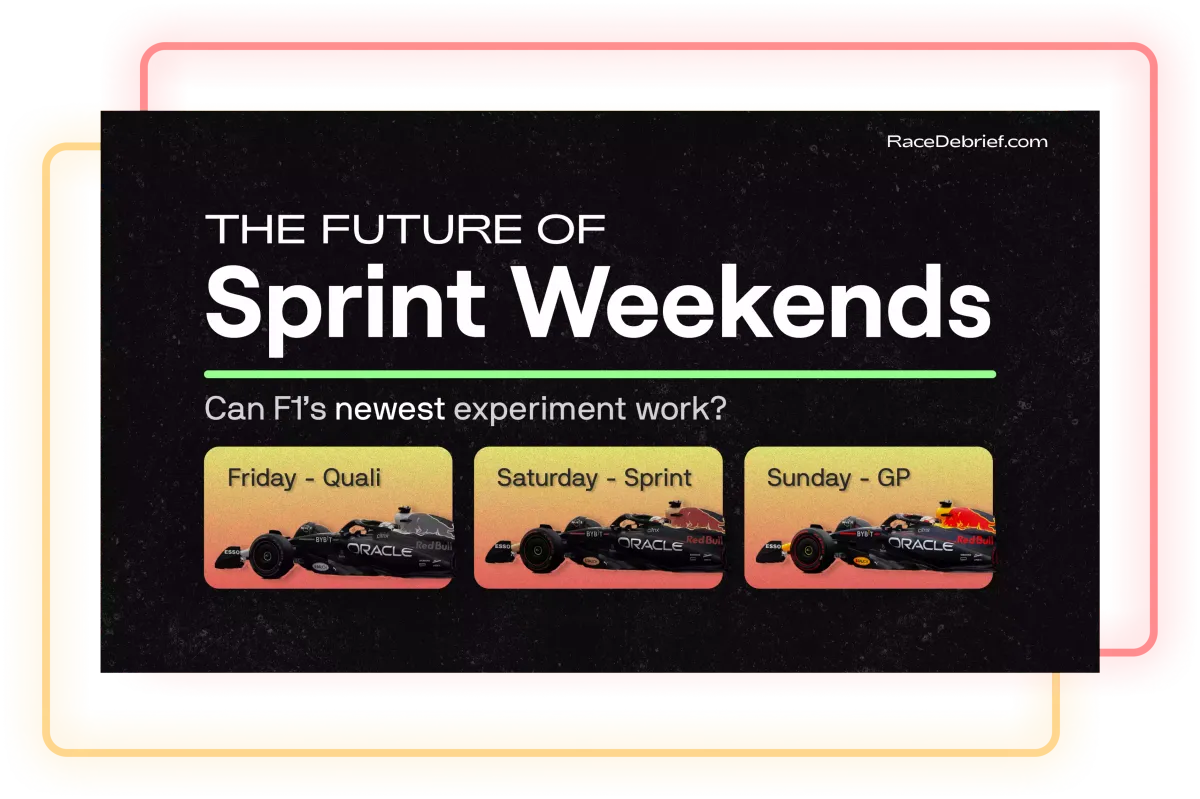 Understanding the Format
Sprints are the FOM's (Formula One Management, the commercial entity that runs the business and show side of F1) attempt to spice up the F1 weekend a bit more. Fridays were, in their opinion, rather boring with Free Practice sections.
Launched in 2021, it's still experimental, with F1 modifying the rules every year. It is a radical change from the standard weekend of yore, that had Free Practice 1 (FP1) and Free Practice 2 (FP2) on Friday, Free Practice 3 (FP3) and Qualifying on Saturday, and the Grand Prix on Sunday.
In 2021, Sprints were introduced as an extension to the qualifying system under the moniker Sprint Qualifying. It would be the fourth on-track session on a weekend, following FP1 and Qualifying on Friday, and FP2 on Saturday. Under the Sprint Qualifying moniker in 2021, the winner would be awarded the "pole position" award, instead of the driver who'd have set the fastest lap in the race (without any grid penalties).
In 2022, this was changed as FOM dropped "Qualifying" from the name to make the Sprint its own format, with the pole position award being rightfully awarded for Qualifying and not the sprint.
Sprints are a shorter race preceding the Grand Prix on Sunday. While a Grand Prix is a 305km race (or the closest distance to it; except Monaco which is 260km long), Sprints are 100km races. There is no rule for a mandatory tyre change in the sprint format and therefore, no one pursues pitstops. The result of the Sprint on Saturday determines the grid for Sunday, whilst the result of Qualifying on Friday does so for the Sprint. Most notably, engine penalties are only applied on Sunday, and not on Saturday.
The Incentive for Sprint Weekends
According to the FIA and FOM, the purpose of a sprint weekend is "seeking new ways to engage with its fans and enlarge the spectacle of a race weekend". Instead of 3 boring Free Practice Sessions, they wanted an exciting session on each day.
However, the biggest motivator is probably the money. There is clearly more demand for a race than a practice session amongst general fans, and it's what they are capitalizing on. Choosing overtaking-friendly circuits helps in this regard, as there is usually some action to be had on there, making the race worth it.
Therefore, the profits outscore the costs of having a sprint rather than another free practice session, leading to the advent and growth of this format.
Why do people dislike it?
During Qualifying at the Austrian GP in 2022, Sergio Perez was disqualified from Q3 after he violated track limits during Q2, but this was done after he had already taken part in Q3. He was dropped down to the grid slot which was allocated to him based on his fastest legal lap in Q2, that being P13. As he was starting out of place in accordance to the pace of the Red Bull, with his teammate on pole, he put in an impressive show of overtakes during the sprint to end up P5 by the end of the session.
The biggest complaint about Sprints is that they tend to normalise the grid, and nullify the action that'd have occurred during the Grand Prix on Sunday, as the case of Perez in Austria clearly suggests. It's unlikely he'd have gained more than a place on Sunday if it was not for his crash with George Russell in the opening stages of the race, given the degradation the Red Bull of Max Verstappen faced throughout the race. They simply have too much influence over the starting grid on Sunday.
They also tend to limit practice and setup optimization time a lot. (Here's a great video from the Williams Racing team that explains that.) Since teams often have only one Free Practice Session before Parc Fermé sets in, they are often forced to accelerate schedules and skip some programs, resulting in sub-par setup optimization, the results of which can effect the whole weekend. While it affected Red Bull in both Austria and Brazil, it tends to have a worse effect on teams lower down the grid whose processes might not be as refined as their competitors.
The 2023 season will have 24* races. With limited power unit allocation (3 ICEs, 3 Turbochargers, 3 MGU-Hs, 3 MGU-Ks, 2 Energy Stores and 2 Control Electronics), the wear will already be high across the season, only accentuated by the Sprint sessions.
*As of the time of writing this article, the 2023 Chinese Grand Prix has been cancelled, but FOM state that they are looking for replacements to fill its void on the calendar.
Conceptual variations of the Sprint Format
Many want the Sprint Weekends to be abolished altogether, but maybe, there are other alternatives that can be considered.
Formula 2
Formula 2 has a unique Sprint format, quite different from F1. Instead of simply setting a Sprint grid based on Qualifying, the grid is determined by reversing the top 10 finishers of Friday's Qualifying session results. This prevents the drivers from simply setting extremely slow laps to qualify lower and gain a headstart for the sprint. Moreover, since pole position is rewarded with points in F2, drivers are incentivised to secure it. The best part, however, is that the Sprint has no effect on the Feature Race (F2's equivalent of the Grand Prix, albeit being 170km long) on Sunday and that its grid is determined entirely by Qualifying on Saturday (and subsequent engine penalties, if any).
This format could, with some adjustments, be adapted to Formula 1, and would alleviate many complaints about the format.
Reverse Championship Order
Another potential path would be to pursue reversing the drivers' or maybe even constructors' championship order, with the Qualifying grid determining the starting order for the Grand Prix on Sunday, independent from the Sprint. This would mostly put cars in an ascending order of pace, with faster cars behind the pack having to race through the field, providing lots of action and overtaking as everyone tries to achieve points.
For the backmarkers, they would gain track position that they often don't have and would therefore have an opportunity to score points that they'd never likely get the chance to. With the current generation of cars which are more adept at racing closer together, it'd be a strategical and skill-based challenge as the slower cars race to defend their position as faster teams drive through the pack to score crucial championship points for the battle at the top.
Different Parc Fermé Rules
In the current Sprint Weekend format, Parc Fermé goes into place at the beginning of Qualifying, just after Q1. Instead of that, Qualifying could be moved to Saturday where it usually is, and the Sprint can replace Free Practice 2. Since a single FP1 session is often not enough for track acclimatisation and setup optimisation, having the data from a shorter (i.e, one-third) version of the race would go a long way in helping teams determine strategy and other adjustments for the cars. This would only work if the Sprint was independent of Qualifying, like in the case above.
So... Why was Brazil fun?
Brazil was perhaps one of the best weekends in terms of racing this year, alongside Silverstone. The weekend was off to a chaotic start with a wet Friday with Qualifying held in chaotic conditions, which saw the teams go from inters to slicks to inters again. Many teams were out of their usual place, with a Haas pole and Leclerc qualifying P10 because Ferrari put him on inters while everyone else was on slicks. Saturday's sprint gave them an opportunity to claw back through the ranks to secure a good starting position for Sunday, whilst awarding them some points in the process.
Saturday was chaotic in its own way, though, as the Red Bulls suffered from high degradation despite being on mediums and the Alpines of Esteban Ocon and Fernando Alonso had damage from a collision with each other. As drivers travelled up and down the order as the grid "normalised", there was a lot of overtaking down the main straight and into some slow corners. (Read Race Debrief's coverage of the Sprint Weekend here).
However, it really made a difference on Sunday, as various crashes saw multiple safety cars and strategy gambles, with some teams much better on the track than orders, most notably Alpine, with Fernando Alonso going all the way from P18 to P5, finishing ahead of his the two Red Bulls! With Max Verstappen and Charles Leclerc falling down the order due to their respective collisions, viewers got to see some amazing recovery drives as the teams salvaged as many points as they could.
Conclusion
So... Brazil was fun because it was chaotic. Chaos is organic, and it's not something the FIA/FOM could induce on a race weekend. Formula 1 teams are built around surgical precision and extreme attention to detail. They like to eliminate variables, and thus, they tend to calculate their way around a circumstance to minimise risk. But the current format is probably too intertwined with the rest of the weekend to help. Separating it and giving its own part of the weekend whilst not disturbing the proceedings of Saturday and Sunday would add to its charm, all the while preserving a level of competition as points would still be on the line.
F1 can and should shuffle the order a bit more, and considering that they have largely taken an experimental approach with the format, it might be worth being a bit less conservative with their approach to it, while staying true to the legacy and core values of the sport. Maybe an extra Power Unit could be added to the roster that teams can only use for Sprints, or maybe engine penalties greater than the amount of the cars on the grid have to be spread throughout the weekend, with a 40 place grid penalty putting a driver on the back of the grid for both Saturday and Sunday!
While many fans have been skeptical and perhaps even hostile towards the format, it's clear the FOM and the FIA want to go ahead with it. They've been looking to increase sprint weekends, with 2023 having six of them! It's a venture that would benefit them economically and would add some entertainment value for newer fans. It's safe to say that Sprints aren't going anywhere any time soon, so maybe it's time for the FIA to modify the format enough that both new and old fans can embrace it alike.
Next year, Brazil and Austria retain their spots on the calendar for Sprints, as 4 newer locations join the roster. Baku will probably be a little less exciting with others because despite its long straights, it hasn't exactly been as rich in overtakes as other locations. Spa-Francorchamps has a legacy for being great for overtaking, something fans might not be aware of if they joined in 2021 or 2022. Hopefully, it's a great race and Spa gets to secure its place on the calendar for a few more years. COTA gave us some great racing this year, and should be exciting to see next year, as teams strive to draw a balance between the optimal tyres for the sprint while keeping the tyre degradation. Qatar will probably be a wild car, with the Losail circuit having hosted only 1 Grand Prix. However, Andrew Shovlin, the trackside engineering director at Mercedes was fairly impressed by the track, saying ""It's a circuit that actually suits F1 cars and it's odd that it's taken us so long to come here", so hopefully, we get some great racing there as well.
Hopefully, FOM plays around with the format a bit while keeping the legacy of Formula 1 preserved. They might just nail the format if they try!
---
Disclosure
This article is entirely sponsor-free. This website is self hosted and does not generate any revenue. The only user-data is collected by the owners except the default data collected by Cloudflare is page visits and origin country data (for analytics). You aren't and will not be served ads on this page, ever.
This website is unofficial and is not associated in any way with the Formula 1 companies. F1, FORMULA ONE, FORMULA 1, FIA FORMULA ONE WORLD CHAMPIONSHIP, GRAND PRIX and related marks are trade marks of Formula One Licensing B.V.
Any product names, logos, brands, and other trademarks or images featured or referred to within the app are the property of their respective trademark holders. These trademark holders are not affiliated with Race Debrief or its contributors. They do not sponsor or endorse Race Debrief.
"F1 TV®️", "Formula 1®", "F1®", "Alfa Romeo®", "AlphaTauri®", "Alpine®", "Aston Martin®", "Ferrari®", "Haas®", "Haas F1 Team®", "McLaren®", "Mercedes®", "Red Bull®", "Red Bull Racing®", "Williams®" are trademarks of their respective owners and are not affiliated, endorsed, connected or sponsored in any way to this website.