Opinion
OPINION: What is wrong with Scuderia Ferrari?
After the Australian GP in 2022, everyone thought Ferrari would run away with the championship, and that it would be really difficult for Max to defend his title. But Max and Red Bull Racing ran away with it, and Ferrari were left in the dust. What went wrong?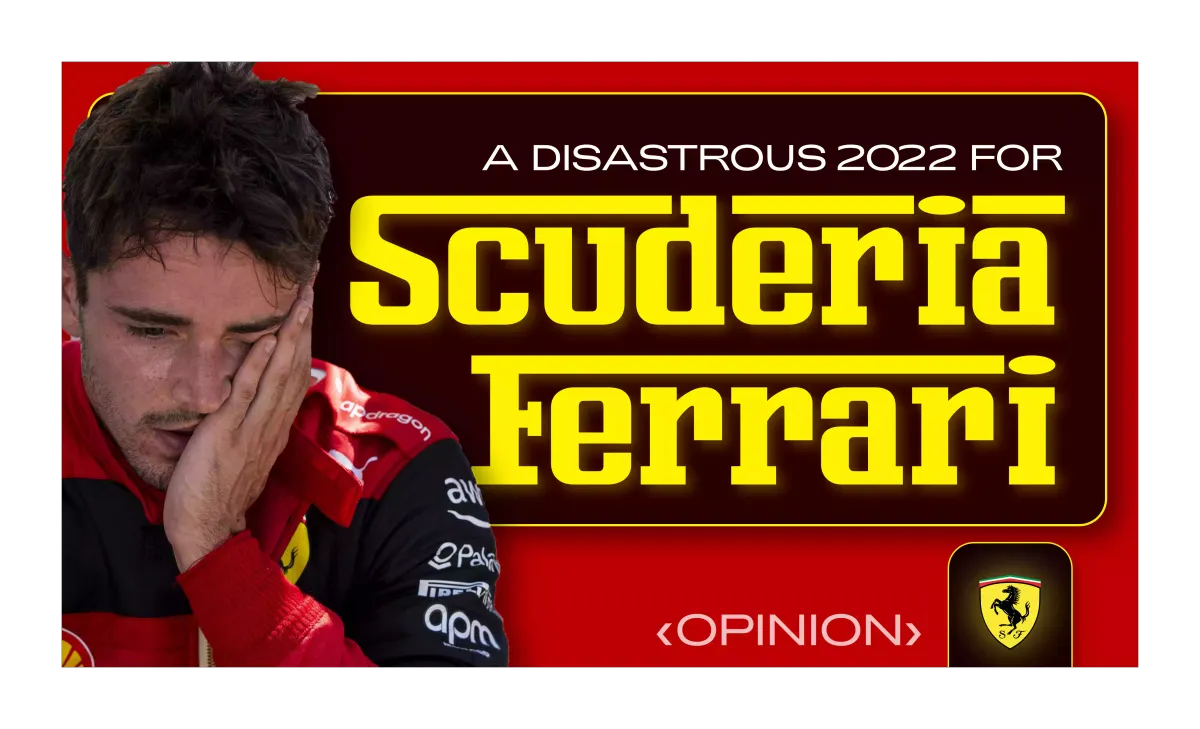 The TL;DR Version
I know most of you probably don't have the time or patience to read through the detailed review, so here's a quick summarization of the article:
The Good Things
Ferrari has faced a lot of criticism for their mistakes this year, and rightfully so. But we must also appreciate their effort that brought them close to title contention early in the year.
Engine Development: The turbo hybrid era was mostly dominated by Mercedes with their extremely powerful power unit, and everyone was left in the dust. After their engine scandal in 2019, Ferrari had the slowest PU in 2020, but they took that challenge well, and were 3rd in the Constructors' in 2021, and had the fastest PU in 2022.
A "no blame policy": Okay, maybe this one hurt them a bit. However, instead of there being no fix to a problem the team faced as blame was just tossed around, Ferrari did fix some things this year.
Aerodynamics: Ferrari had a great car in the corners this year, a long shot from their early turbo hybrid era cars which lacked cornering speed a lot of the time.
The Bad Things
It was a disastrous year, really, for a team that looked like it could end its sabbatical from the top of the world championship after a wait of 15 years for the WDC, and 14 for the WCC. But, those things were not meant to be.
Reliability: This is, perhaps, not entirely a bad thing if seen as a long term plan. The engine development freeze this year meant that teams could not work on performance anymore, just reliability improvements. Thus, Ferrari took the gamble on performance at the cost of reliability. Rumors (again, rumors, not facts) have been floated around that they ahead to run their car under their maximum performance for the latter part of the year in fear of reliability issues. However, this lost them and their customer teams a lot of points, as their engines blew up quite regularly.  

A draggy car: The Ferrari, while a beast on slow corners, was left lacking on low downforce circuits, especially towards the end of the season. Belgium was particularly disastrous in this manner.

A qualifying car: The Ferrari was adept at getting its tyres into the right temperature window quicker than all other cars. As explained in this amazing article by Mark Hughes and Giorgio Piola, the Ferrari's brake design meant that the tyres heated up quicker. However, this meant that they suffered from extreme tyre degradation on long stints. While track position would have been a massive advantage in most other years, the new regulations made following a lot more easier and thus, on most days, the Ferrari lost out in that regard to its competitors. This led to a pretty disappointing stat for Leclerc too. Max Verstappen is more likely to win from a Leclerc pole than he is.

Miscommunication: Communication is key within a team, and yet, this was perhaps Ferrari's most glaring weakness this year. From the Monaco pitstop confusion, to asking to pit while battling with Perez in France and the " ... question?" saga in Belgium, Ferrari's communication was all over the place.

Strategy: Ferrari using really bad strategies isn't new. It has probably been the biggest barrier to them winning championships in the last decade. And this year was no different. Wrong tyres, poor tyre management throughout the weekend, and pitstop issues lost the team a lot of points, only to be compounded by the aforementioned miscommunication. In this regard, however, Sainz did a better job by being assertive about his strategy than his teammate, Leclerc, who just followed the team's orders for the most part.

The team's preference for pre-determined strategies was also mocked this year, with the infamous "Plan A", "Plan B" etc relayed between the drivers and the teams. Having a general plan is a great idea, but adaptability is key.

Driver Priority: We don't like team orders. They take away the fun of racing between teammates, which is especially fun because it's the same machinery for both. It is where driver skill makes the difference. But perhaps, when you are marred by other weaknesses, you sometimes have to make compromises, and Ferrari could push Leclerc into title contention.

From race results to lap times, it was clear since the beginning that Charles Leclerc was a better driver, atleast with the F1-75. While Carlos seemed to get more comfortable with the car as the season progressed, he still couldn't entirely close the gap to his teammate. Sometimes, to win, you have to prioritise the better driver as well. I understand Ferrari has been marred by the memories of "Fernando is faster than you" in an era that was illegal, and perhaps doesn't want to live through those memories again. Sometimes, you just have to push to the limits to win in F1. Sometimes. Yes, what Ferrari did was the ethical thing to do, but it did not benefit them, and perhaps hurt their faster driver emotionally, who was held behind his slower teammate in many occasions, most notable Silverstone.

This was, perhaps, reflected in the development direction as well, as the car lost its oversteery characteristics that suited Charles, and moved towards a more understeery design which Carlos likes.

Ignorance: This is, perhaps, a more emotional criticism than an event-centric one or a fact-centric one. Throughout the year, both the team principal and the management constantly told the press that they weren't doing anything wrong and it was just bad luck, and that the press was over-criticizing them. That is not the right approach to have. They should look at Red Bull and Mercedes, two extremely efficient championship winning teams that are not afraid to admit fault.

Yes, a zero blame culture does mean you don't point a finger at any one, but it also means that you work on accepting a mistake and fixing it. Now, of course, we do not know anything that happened inside Ferrari, and they might have been working on solving their problems, which is good. However, denying the truth can sometimes create a wrong state of mind, a state of arrogance, which is unhealthy.
The Team Principal
As of writing this articles, rumors are afloat the Mattia Binotto, who was Ferrari's team principal this year, is likely to be replaced. However, it is my opinion that changing the team principal will not solve most of Ferrari's problems.
Ferrari's problems are probably deeper than just the team principal. They've changed team principals over the years, but to no avail. The culture around Ferrari is of pride, and rightfully so. However, the past doesn't win laurels for the present. A culture of "we can not do anything wrong" is probably not the best to have. Binotto's leadership has seen a significant improvement in the culture at Ferrari, and that is a good thing. I'm not defending him here, either, he is a man of many mistakes. But the blame for Ferrari's poor season does not lay entirely on him. The politics of Ferrari are a well known tale, and perhaps, he's just another scapegoat.
UPDATE (29/11/2022): Mattia Binotto has resigned from Scuderia Ferrari and will leave the team on December 31st, 2022 after a 28 year stint. This will likely affect their development timelines for 2023 as well.
UPDATE (13/12/2022): Frédéric Vasseur has been appointed the Team Principal of Scuderia Ferrari. He will take charge on January 6, 2023.
The Detailed Version
History
The legacy of Ferrari
If you've heard of cars, you've heard of Ferrari. And when you think of Ferrari, you think of beautiful, fast cars. Beautiful, fast red cars.
Ferrari S.p.A is, if you didn't know it already, an Italian car manufacturer based out of Maranello, Italy. Ferrari, did not, in fact begin as a road car brand. It began as Scuderia Ferrari, the racing team under Alfa Romeo, but Enzo left Alfa Romeo to start his own race team. He couldn't contractually use the name for 4 years, but when he got the right to use it again, he did.
But racing is expensive. Very expensive. And then, World War II saw the allies attacking Italy, during which Enzo's factories were bombed. But it was rebuilt. And Enzo realized during the same time that he couldn't just keep the racing team going on prize money alone. It was not sustainable.
And so, Ferrari was split. Ferrari S.p.A would be the road car division, which would sell Ferrari designed road cars, while the racing team Scuderia Ferrari would take to the track. Scuderia Ferrari would join Formula One in its first ever season in 1950, and is the only team that has stayed since its inception.
In their time in the sport, they've won 16 Constructors' championships, and 15 Drivers' championships, the most of any team in F1 history. They also hold the records for the most Grands Prix participated (1054), the most Grands Prix started (1052), most wins (242), most Podium finishes (798), most 1-2 finishes (85), most pole positions (242), most qualifying 1-2s (82), most Constructors' Championship points (9266), most Drivers' Championship points (9859.79), most fastest laps (259), most consecutive seasons with at least one victory (20 [1994-2013]). To say they're the most successful constructor in the sport is an understatement.
And that's just F1. They have a widespread presence across motorsport, participating in multiple categories, and even host some of their own!
Understanding Scuderia Ferrari
Ferrari is more than just a brand. They're the soul of Italy, and expectations run high. Expectations can manifest into pressure, but if you're victorious for a while, you get over-confident too, and it seems that Ferrari walked into a bit of both. There's a certain pride associated with the culture, history and emotion of Ferrari, one that drives the passion every team member shares.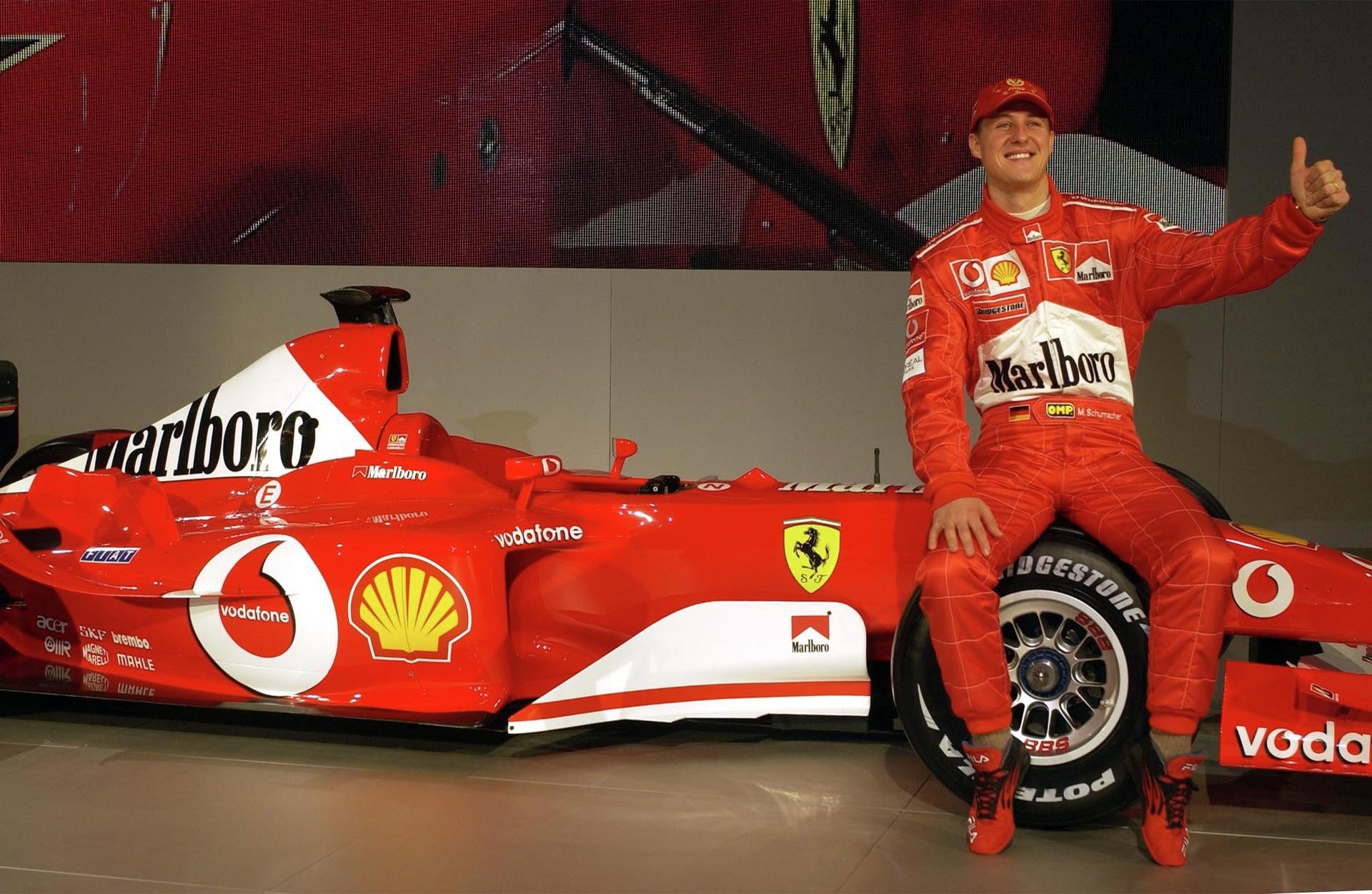 They've had their successes, no doubt. If you follow F1, you've heard of Michael Schumacher, or as Mika Häkkinen fondly called him, "The Michael". 5 double titles together and an era of absolute dominance. But that's just one of their great successes, having won with Alberto Ascari, Juan Manuel Fangio, Mike Hawthorn, Phil Hill, John Surtees, Niki Lauda, Jody Scheckter and Kimi Räikkönen. They've been very successful, but one does wonder, could it be better?
But perhaps, Ferrari the factor that limited Ferrari the most was the corporatism. It happens with all manufacturer teams, like Mercedes (Daimler AG), Renault etc, but something about the Scuderia sets them apart. Both the drivers' seats and those of team management have been a revolving door, often due to decisions that come from the parent company, not those running the team.
Some bold decisions have paid off. Mauro Forghieri, who passed away recently (in late 2022), was handed the reins of the entire Ferrari racing department in 1961 by an ambitious Enzo Ferrari, at a raw young age of 27. This was an era where the cars, engines, gearboxes were all designed by a single engineer, or a very small team around him, but nothing close to the hyper-specialized departments that exist in motorsport today.  And yet, he's regarded as the most influential engineers of all time, carving a legacy for himself by the virtue of the great cars he designed.
You've probably heard of Jean Todt, the team principal during the era of The Michael, who came to the stable of the prancing horses after his stint at Peugeot. He is regarded as one of the greatest team principals of all time, and later went on to be the CEO of Ferrari and the President of the FIA. His leadership saw Ferrari winning 14 titles (drivers and constructors), and it's not without reason. Todt is said to have run a tight ship, with a tightly knit workforce independent from too much corporate intervention. He's remembered as a key figure in the Ferrari Dream Team of Schumacher, Brawn and himself. Brawn and Schumacher brought their own core squad from Benetton as well, which played a major influence on team operations.
However, since his tenure, Ferrari have only won one WDC (with Kimi, in 2007) and one WCC (in 2008). The office of the Scuderia Ferrari team principal has been a revolving door since, having seen Stefano Dominecali, Marco Mattiacci (for just 6 months!), Maurizio Arrivabene, and Mattia Binotto. As of writing this article, rumors (again, not facts) of Mattia's possible replacement by Alfa Romeo Orlen's (aka Sauber) Frédéric Vasseur have been floating around.
(If you think you've heard of Stefano, you probably have. He's the current CEO of FOM - Formula One Management, and was the Technical Director of Ferrari during the infamous Spy-gate incident in 2007.)
What went wrong? Why is Mattia at risk, and what led to this? And will his replacement fix it? Is beheading the metaphorical scapegoat the solution?
The 2022 season begins
Pre-season
As the hype for the season began to build in early February by reveals up and down the grid, Ferrari's team principal Mattia Binotto emphasized their team's work on their Power Unit over the winter to achieve parity and even outperform their competitors, especially Honda (HRC) and Mercedes (HPP). This was especially important over this specific season because in 2022, performance development on engines would be halted, and changes would only be allowed for reliability. From what we know at the end of the 2022 season, they definitely prioritized performance over reliability, and rightfully so, as this would give them time to develop. Their partnership with Shell to optimism their engines for 2022's new fuel formula (with 10% ethanol) probably played a key part as well.
Testing
As the teams arrived in Barcelona for shakedowns, the Formula 1 world was reintroduced to a word from the last time that F1 tried ground effect: Porpoising. To put it simply, ground effect cars generate their downforce from being close to the ground and passing air through a specific set of "tunnels" on the floor. However, if the floor goes too low, it hits the ground, which subsequently halts any air circulation and the floor goes up again, only to go down again. When this process occurs multiple times, it feels very bouncy, as if the car has springs under it.
Despite being a sports car manufacturer, Ferrari had presumably not seen this coming, because their car was one of the worst in this regard, porpoising a lot down the straights in Barcelona, so much so that the video of their car was the example F1TV used to explain the phenomenon. This would hurt them later in the season, as they struggled to find a solution for this.
Similar problems would continue in the second round of tests in Bahrain, but Ferrari also seemed to be on pace there, and so did their customer teams. Testing doesn't mean much (especially with the Mercedes trend of sandbagging), but for Ferrari fans this year, expectations ran high as preparation began for the season opener.
Round 1: Bahrain
As they say on season openers, you never really know the pace until Q3 on Saturday. But come Saturday, Charles Leclerc put his car on pole by a tenth off Max Verstappen, much to the pleasure of the Tifosi.
Leclerc led away from the start, and Ferrari were on a near perfect strategy too, managing degradation and pitstops really well. Then, Max appeared on the season. Eager to defend his title, Max tried to put in an aggressive overtake over Leclerc on the main straight, but Leclerc played it wise and let himself be overtaken to gain the place back in the next DRS zone, in a dazzling display of sparks.
But then... it happened again. The same sequence, with Max overtaking Leclerc before Turn 1, and Leclerc gaining his place back before Turn 4.
But then... it happened again! It was delightful to see Leclerc's wonderful race craft against Max, so well thought out and executed.
Sadly for fans, though, Red Bull suddenly had a lot of issues. Max reported a loss of his ERS system, and lost his power steering, and retired with just a few laps to go. Pierre Gasly's RBPT/Honda engine blew up in flames, while Sergio Perez's car stopped on track at turn 1 with a complete loss of power. That was 3/4 RBPT (Red Bull Power Trains - currently a Honda rebadge, not in-house) engines out of the race. It did not bode well for their reliability.
What was likely to be a Leclerc-Verstappen-Sainz podium became a Leclerc-Sainz-Hamilton podium, a long awaited 1-2 for the prancing horses, and a great start to the season. Sainz didn't seem happy about his own pace, but Leclerc was about his, and all seemed good. For now, Ferrari were leading both the Constructors' and Drivers' championships.
They just had a small problem with bouncing. They could fix that, right? Leclerc even mocked the RBR retirements saying there was something wrong with his engine on the final lap. Oh Charles, if you'd have only known how that would age.
Round 2: Saudi Arabia
Jeddah in 2021 was a hectic race. It had given us some big crashes, high risk moves and lots of controversy. But 2022 would be the best Leclerc-Max battle we could see, sadly. (foreshadowing).
Jeddah was held in controversial circumstances (more about it in the season review), and team principals had to convince drivers to drive after missile strikes. Ferrari played a dummy against Red Bull's Sergio Perez, getting him to pit early, and things only got worse for Perez as a safety car came out the next lap, giving his competitors a free stop. A strategy materclass from Ferrari. Max and Charles were battling in the last laps as Max closed up the gap to him, but Max would overtake Charles before the penultimate turn, only for Charles to get DRS over the main straight, and take back the position from Max. It was almost the same as Bahrain, and it was amazing. But Max knew the premise this time, he knew what was happening. So as Max and Leclerc went to the DRS detection line at the penultimate corner on the penultimate lap, both of them braked hard to let the other one through. But Leclerc had just a little more pace and crossed the line first, giving Max DRS, and Max overtook him down the straight.
It was a fantastic Grand Prix, and one of the best Max-Charles battle this season. Sadly so.
The strategy, however, was still pretty decent, and the team's performance was great too. Carlos finished in P3 too, with a pretty decent drive, securing a 2-3 for Ferrari.
Round 3: Australia
During the FP sessions, the long straights of the Australian circuit saw a lot of porpoising from various cars. While it seemed that the Mercedes was losing pace due to this, the Ferraris seemed to fast despite it.
Australia saw Charles taking pole by 3 whole tenths, and he had a great start at the GP, with Max just behind him. However, with the heat and track characteristics of the modified Albert Park circuit, the Red Bulls saw some significant degradation, even on the hard tyres. It was not all meant to be for Max Verstappen, though, who reporting smelling something funny only to be informed of a leak in the car, and had to retire the car. It was a DNF for Carlos Sainz on lap 1 after he braked a bit too late and ran into the gravel.
Perez also struggled with degradation, and could only finish P2, a whole 20 seconds off Leclerc. George Russell secured the third podium spot, however, with a great drive, with Lewis Hamilton running experimental parts and sensors on his car. Max now had a 46 point deficit to Leclerc, and said that the championship would be really difficult for him from there.
A car that doesn't suffer with degradation, okay and sometimes good strategy, and a car that has a lot of pace. What more could you want. Right? ... Right?
Round 4: Italy - Imola; The Turning Point
Imola was one of Ferrari's and AlphaTauri's two home races, and on a track named after Ferrari's founder, Enzo Ferrari. As the teams arrived at the Autodromo Enzo e Dino Ferrari, they were greeted by rain and the prospects of a wet sprint weekend.
Qualifying started off dry and got progressively wetter, with Q3 being entirely on the inters. Lando Norris crashed into the barrier and beached his car, ending Q3 with a red flag. Verstappen outqualified Leclerc by 8 whole tenths, a sign of the weekend that was to come.
Leclerc got ahead on the beginning of the sprint, with a better start than Verstappen who reported clutch issues, and stayed ahead, nearly equal on pace. However, it was then that the Red Bull pitwall informed Max of significant degradation on Charles' tyres, because of which Charles could overtake Max on lap 20 of the 21 lap sprint, to start in the lead the next day.
On Sunday, Red Bull fixed Max's clutch and they were able to get a better start, and Max led away right at the beginning and pulled a strong gap over Leclerc who dropped behind Norris who he then had to overtake. Carlos Sainz had a shunt with Daniel Ricciardo which took him out of the race, and Leclerc's Ferrari was a bit off pace, but he was managing to hold on to P3, and was trying to battle for P2. But on lap 53, as Leclerc was trying to close the gap to Perez, he took a bit too much kerb. The track had dried out, but the kerbs were still wet, and Leclerc spun into the wall, damaging his front wing. He was able to pit, change the front wing and get new softs on, and put in an extremely quick recovery drive but he was only able to end up P6, many points off of where he started, while Max finished P1 with the fastest lap to score the maximum points the weekend could offer, beginning his recovery towards the top.
Round 5: USA - Miami
On Saturday, Leclerc and Sainz locked out the front row. Max, however, got a better start on lap 1 and overtook Sainz outside Turn 1, and then passed Leclerc at the end of lap 8/beginning of lap 9 down the start finish straight.
On lap 41, there was a safety car after Pierre Gasly and Lando Norris had a crash, which resulted in a safety car. The Ferraris could realistically beat the Red Bulls if they pitted for fresh softs in a free stop since they were still behind the pit entry line while Max had crossed it, but didn't, since they didn't have any softs or mediums left.
Sergio Perez had issues on his car which resulted in a 10-20 bhp deficit, but he managed to cling on to 4th place, sometimes even close enough to make a move on Sainz.
Round 6: Spain
It was a strong qualifying for Leclerc in Spain and a great start to the race too, pulling off a dominant gap behind him. Both Sainz and Verstappen went into the gravel and rejoined the track due to wind, losing a lot of time in the process. However, on lap 28, Leclerc reported a loss of power and had to retire the car. Later, Ferrari explained that the issue was due to their turbocharger.
Max Verstappen faced DRS issues, but managed to get past George Russell after a great wheel to wheel battle between the two. Sergio Perez also got past George and the race ended with another Red Bull 1-2.
It was in Spain that the championship lead switched around, giving Verstappen a 6 point lead in the Drivers' Championship and Red Bull a 26 point lead in the WCC.
Perhaps the most important sign from this race was the issue Ferrari had with their turbocharger. This would haunt them in future races.
Round 7: Monaco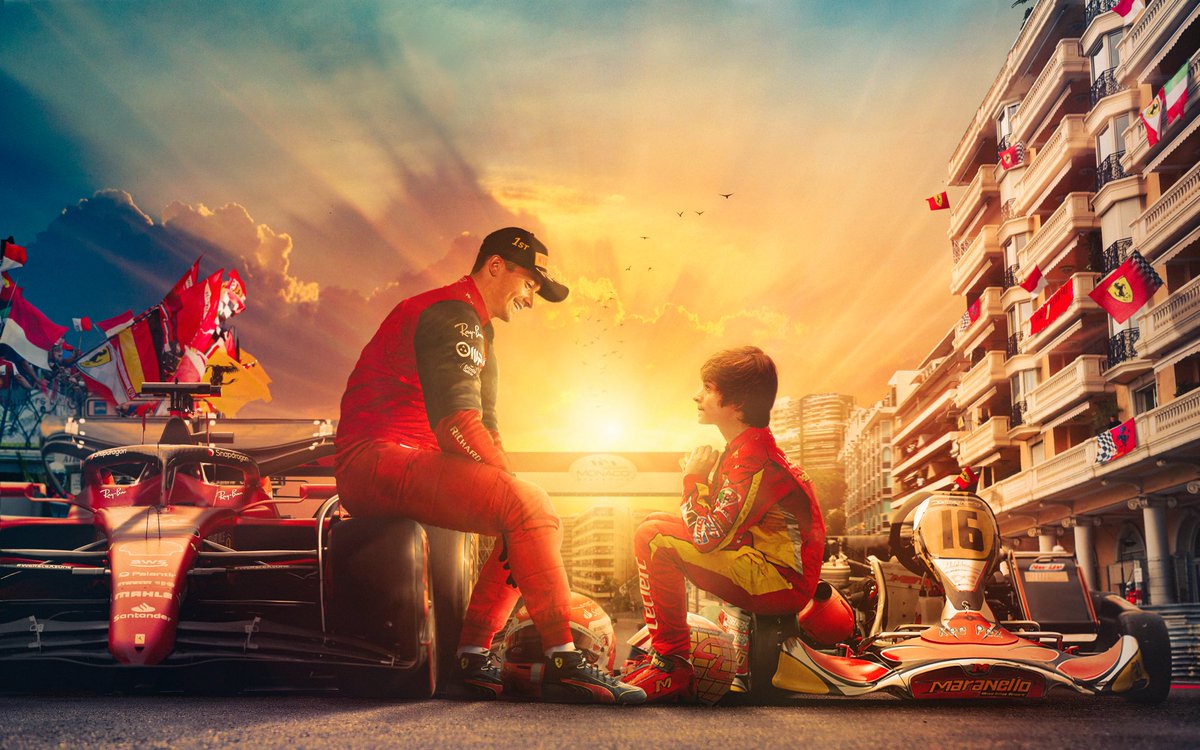 Monaco has, in simple terms, not a great weekend for Charles. He had DNF'd/DNS'd in every Formula series in his hometown (until this year), something fans refer like to call his "Monaco curse".
Going into the Grand Prix, Ferrari and Leclerc fans didn't want a repeat of that. Luckily for him, the high downforce Ferrari was well suited to this low speed, high downforce.
He had an amazing qualifying, and already had provisional pole and was on a faster lap when Sergio Perez, who was P3 crashed into the wall, and Carlos Sainz crashed into him. Max had to abort his lap as well, after a personal best first sector.
It was a rainy Sunday which delayed the race start, and in the end, it was a rolling start on the full wet tires. The rain was stopping, and the track was drying up as cars put rubber down on the track. The backmarkers took a gamble with Inters and were struggling for a few laps before conditions improved significantly, and that helped them overtake some cars too!
Red Bull's Sergio Perez pitted for Inters, and Verstappen and Leclerc followed him on the next lap. Carlos Sainz, however, wanted to stay on the Wets and go to slicks directly. However, that slowed him down significantly as the wets underwent higher degradation on the drying track.
Leclerc was comfortably leading when he was told to pit on Lap 18, and so was Sainz. Sainz was pitting from Wets to Hards, and Leclerc was pitting from Inters to Hards. However, it was mistimed and marred with miscommunication.
Xavi (Leclerc's Engineer): And box now, box now box, for hard.

(pause as Leclerc enters the pits only to see Carlos Sainz, which meant they were doing a doublestack which would lose them some time and maybe track position.)

Xavi: And stay out, stay out, stay out!

Leclerc: ****! ****! Why, what, what are you doing?!
Telling your drivers to stay out after they're in the pitlane probably isn't the best idea. They lost time on their outlap as they were stuck behind the Williams, and the top 4 all pitted for Mediums after Mick Schumacher's crash, which they would take to the end. However, in Monaco, track position reigns supreme, and Sergio Perez won the race, with Sainz P2, Verstappen P3 and Leclerc P4, off the podium despite starting from pole.
This race highlighted two major flaws with Ferrari, problems that even the fastest car couldn't solve: Strategy and Communication.
Round 8: Azerbaijan
It had been established by this weekend that the Red Bull RB18 preferred long straights and high speed corners being an efficient, low downforce car, while the Ferrari preferred slow and medium speed corners.
As the F1 circus arrived in Baku, everyone was going to run their lowest downforce spec yet, to use the long straights of Baku to their advantage. Despite a somewhat draggy car, Leclerc put in a magnificent qualifying lap, leaving no inch of track or kerb unused, to secure pole position.
On Sunday, Leclerc locked up on the start and was passed by Sergio Perez. However, Sainz had a brake by wire failure on lap 9 causing a Virtual Safety Car (VSC), and Leclerc used that opportunity to gain a "free stop". He regained the lead on lap 19, when Max pitted, only for his power unit to blow up with white smoke on the next lap as he came down the main straight, which ended up gifting Max the race win.
Kevin Magnussen and Zhou Guanyu also had Power Unit failures, and with both of them Ferrari's customer teams, 4 out of 6 Ferrari powered cars did not finish the race.
It was a terrible showing of reliability for the Italian team.
But more importantly, this event set the scene for a Technical Directive (TD) that would go on to hinder the Ferrari, as many drivers suffered from porpoising on the bouncy street track of Baku.
Round 9: Canada
With so many power units up in flames, Leclerc had to take an engine penalty in Canada, and had to start from the back of the grid.
Leclerc didn't take part in Q3, and just began at the back, as Max Verstappen took pole in a crazy wet qualifying session with Fernando Alonso qualifying second.
Leclerc started from the back and had a lot of good overtakes, but only ended up P5, because he stayed out too long on his old tyres, another strategy blunder.
Sainz was running his own strategy and did a great job at it, and was just 8 tenths off Verstappen for the last 10 laps, but they were equally matched on pace and neither driver made any mistake, so Verstappen won that race and Sainz finished P2.
Perez had a gearbox failure and Yuki had a crash, but more importantly, Mick had an issue with his Power Unit, and considering Haas is a Ferrari customer team for all parts like PU, Gearbox etc (Alfa Romeo started making their own gearboxes this year), it was another glaring reliability issue for the Italian team.
Round 10: Silverstone
It was a wet qualifying in Silverstone where Leclerc had a spin which caused yellow flags, causing Max Verstappen to abolish his fastest lap attempt, securing a pole for Carlos Sainz, his first in Formula One.
Silverstone had a fairly gnarly crash into turn 1 on lap 1 with Zhou Guanyu, George Russell and Pierre Gasly, and another with Alex Albon, Sebastian Vettel and Esteban Ocon. The race was red flagged and resumed soon after the debris and the cars were recovered and the barriers were fixed. While Carlos had a poor get away from the line on the first start, he had a much better one on the race restart and swerved into Max Verstappen. It got scrappy between the two of them, and it was equally if not more intense behind them with Leclerc and Perez battling each other causing wing damage for Leclerc which Ferrari chose not to fix, as they didn't seem to be losing pace. It also resulted in front wing damage for Perez.
Sainz went wide coming out of Maggotts and Becketts on lap 10, which allowed Max Verstappen to overtake him before Max had an issue on lap 12 which was later revealed to be due to piece of AlphaTauri debris stuck on his floor. He thought it was a puncture at the time and had to pit, but they could not rectify the issue and he had to go on with damage, many tenths off the pace of the leaders. He was completely out of podium contention.
Leclerc had much better pace on the hards than his teammate and asked the team to switch them as he was losing time, but the team took many laps to do that, losing Leclerc valuable race time in the process. On Lap 39, Ocon's car had a failure which caused a DNF, resulting in a safety car. The Ferrari pitwall boxed Sainz for softs as did all other teams with their respective drivers, but Leclerc was left out on hard tires.
Sainz was told to back the other cars off and create a gap for Leclerc, which would clearly risk him a little, so he refused and said out loud what has now become an iconic response to poor Ferrari strategy:
Stop inventing! Stop inventing!
Leclerc was extremely compromised on his old hard tyres by everyone else on the new softs, and the driver who was once leading the race as an amazing battle ensued between Perez, Hamilton and himself, while Carlos cruised away to victory. It was still a valiant battle by Leclerc, though, as he gave everything to hold on to his position. It was Carlos Sainz's first Grand Prix victory in Formula One, but it was at the cost of his teammate.
Ferrari's main faults this weekend were poor communication, strategy, and not prioritizing their faster driver who still had some shot at the championship. Moreover, they did not accept fault and somehow tried to justify their decision not to pit with Mercedes not pitting Hamilton at Abu Dhabi 2021.
Mattia Binotto was later seen wagging a finger at Leclerc, which Leclerc said was to cheer him up, but you can draw your own conclusions.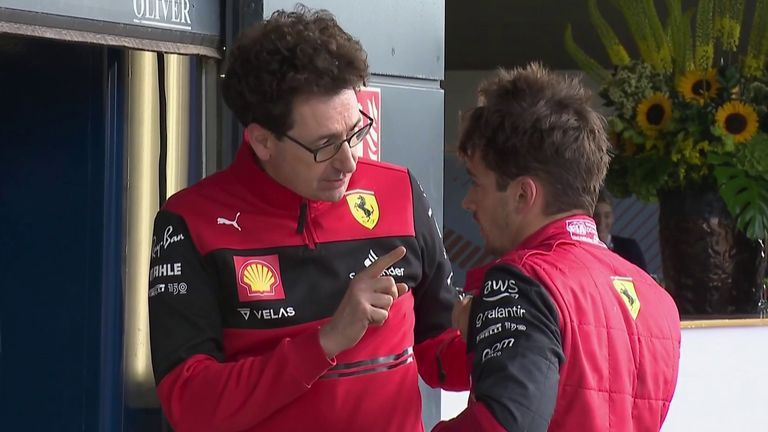 Round 11: Austria
Max Verstappen did take pole in Austria and the sprint win, but Carlos Sainz and Leclerc lost a time battling each other as well. However, Leclerc came out ahead, and while he ended the race in P2, he was confident in his radio message to the team in which he said
We'll get them tomorrow.
As it would turn out, Ferrari would nail the strategy and had much better tyre wear than the Red Bull throughout the race. However, as Leclerc passed Max and Carlos was about to repeat the same on Lap 57, his engine burst into flames, even damaging the chassis, as he stopped on the escape road and awaited the stewards to come to him and help. It was reported to be another turbocharger blowup.
Leclerc reported throttle issues on the closing laps and lost a few tenths to Verstappen, but still secured the win, his long awaited podium since Miami, which was quite shocking, considering the pace he'd had throughout every weekend.
Turns out, altitude would be a bit of an Achilles heal for the Ferrari PU.
Round 12: France
Leclerc took pole in France as Verstappen was P2, and that was the order after turn 1 as well. Max did try to close the gap to Leclerc, but the degradation due to the heat from the car ahead was too high, and Red Bull attempted an undercut on Lap 17, to a set of fresh mediums. Leclerc was also pushing on that lap, trying to build a gap to Max so that he could pit too, and on Lap 18, Leclerc lost his rear as he put on a bit too much throttle, and despite the grippy tarmac to stop the car from crashing, he went into the barrier and his car got stuck into the barrier, ending his race. Verstappen took a dominant victory that day, 10 seconds off the Mercedes duo of Hamilton and Russell.
It was a communication disaster on Sainz's side of the garage, with them telling Sainz to box just as he was battling Perez. They decided to sacrifice P3/P4 for P5 with the fastest lap, which was a pretty baffling decision.
This one was purely driver error, and Leclerc's radio sums it all up. He was quite disappointed in himself after the race as well.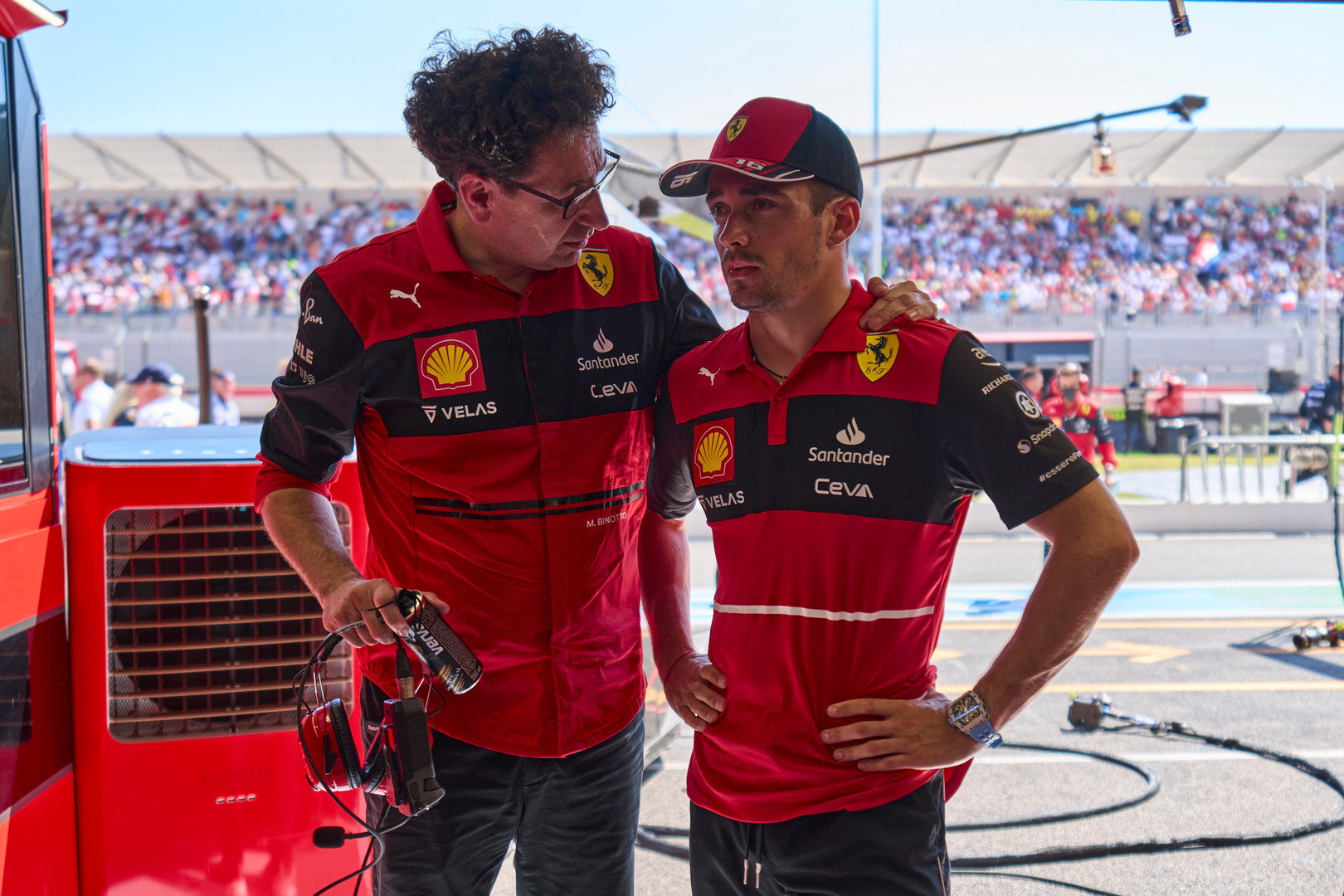 After winning the championship in Japan, many RBR members said that this was the race where they felt that they'd be able to carry this lead over and secure the championship, with a very good result.
Round 13: Hungary
With 10 races to go, Leclerc would have to win every single one to have a shot at the WDC. This was the last race before the winter break and before the aforementioned TD would come into effect. It was a high downforce circuit, suited to the Ferrari's characteristics, and even Red Bull team boss expected this to be an easy victory for the team in red.
A drying Qualifying after a wet FP3 saw George Russell take his first ever pole in F1 in a surprise to many up and down the grid. The high downforce Mercedes was on pace that weekend. The Red Bulls had a terrible qualifying as impeding and outlap mismanagement saw Perez knocked out in Q2, while Max had power issues in Q3 and only qualified P10.
It was a cold weekend, and not one for Hards, but putting both their cars on Hards on a low temperature, low degradation track would cost Ferrari the podium, as Sainz finished P4 and Leclerc finished P6, while Max Verstappen won the race by 7.8 seconds over Lewis Hamilton despite having a spin in a perfect showing of strategy and racecraft. It was this race that brought Red Bull's chief strategist, Hannah Schmitz, was noticed by many people up and down the grid, as the Red Bull pitwall absolutely nailed the strategy, in a race that saw Max Verstappen go from P10 to P1 (despite having a spin), a great recovery drive.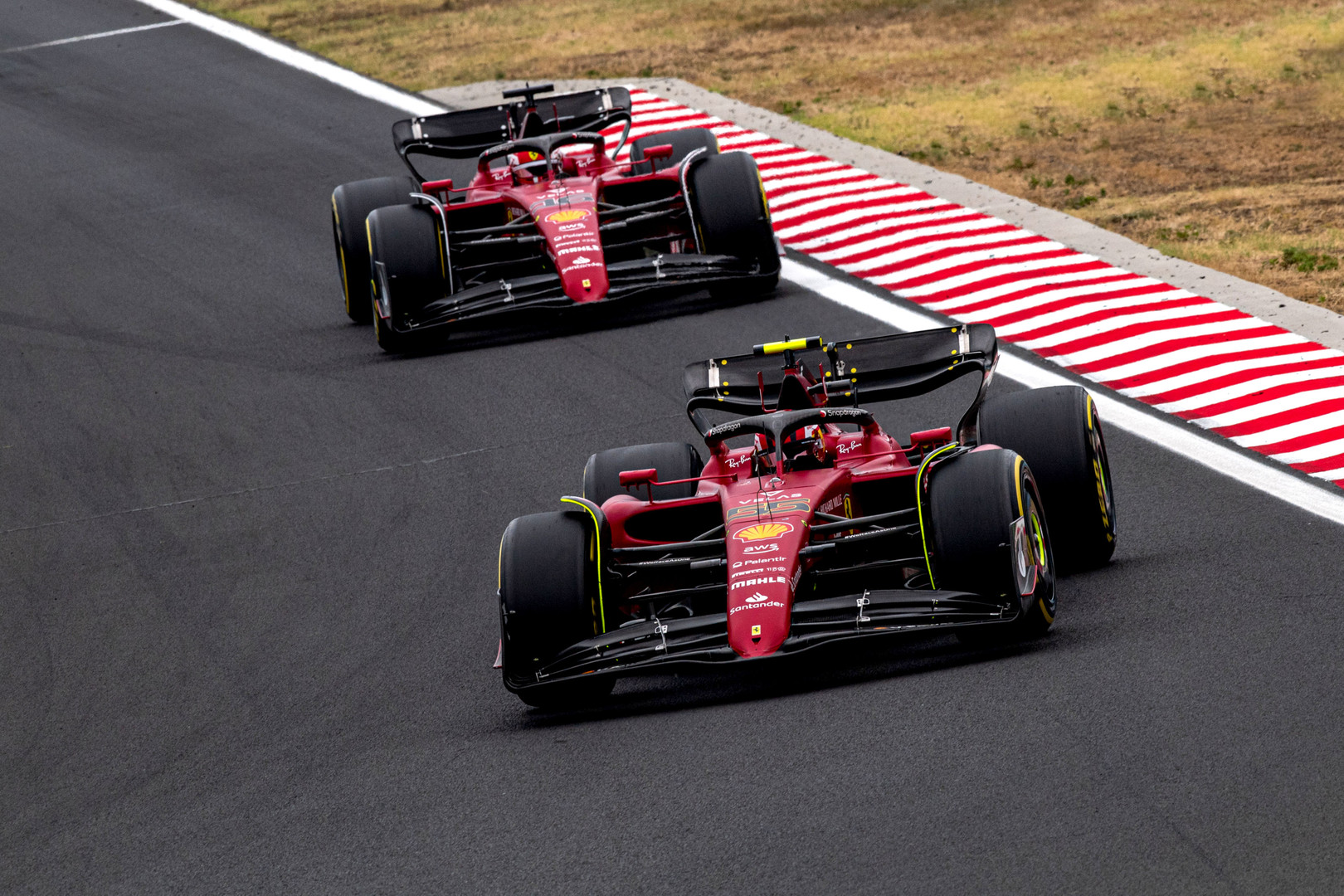 TD039: No Oscillations
Baku's porpoising set off a series of lobbying in the GPDA (Grand Prix Drivers' Association, essentially a drivers' union) and the FIA (Fédération Internationale de l'Automobile, F1's governing body) to address porpoising in cars.
It outlawed a "flexi plank" solutions some teams were accused of using to reduce porpoising and gain pace, while enforcing a maximum permissible oscillation formula for every race, which required a team to raise their car's ride height if they were found in breach of the metric.
Mercedes accused Red Bull and Ferrari of using a "Flexi Plank" which would be an illegal move, and Ferrari accepted they had such a solution and would change it, while Red Bull denied all such claims.
Round 14: Belgium
Max Verstappen and Charles Leclerc both took engine penalties at the Circuit de Spa-Francorchamps, as it is a great track for overtaking. Max Verstappen's car was rapid all weekend, and he took the fastest lap in the garage, as his fastest lap was a second clear off any one else. He was not awarded pole position, however, because of his engine penalties.
Verstappen got a great start on Sunday as he was up to P8 on the first lap. An incident between Hamilton and Alonso saw a hydraulic failure for Lewis' W13, which sprayed the fluid all over other cars, and that required drivers' to pull away their tearoffs to have a clear view. Stroll's tearoff went into Leclerc's front right tyre, causing a fire due to brake overheating, because of which he had to pit, while Verstappen put in a dominant drive and was leading the race by lap 12, and pulled off an extremely long stint on softs while not losing pace.
Max finished nearly 20 seconds ahead of his teammate in second place, despite Perez getting a front row start.
Meanwhile, Ferrari decided to attempt the fastest lap as Leclerc could get a free stop on the penultimate lap, but he came out behind Alonso and had to pass him, losing that point to Verstappen as well. He was awarded a 5 second penalty for speeding in the pitlane which put him behind Alonso, further compounding his misery.
Carlos Sainz finished P3 with a 9 second gap to Sergio Perez, in an extremely dominant race for the team.
However, it was quite interesting to see Ferrari trying to work on their communication by relaying multiple strategies to the drivers throughout the race, followed by "... question?". They did face criticism over being too open with the strategy and for giving rather poor options, but it is my opinion that it was a step in the right direction, at least in terms of trying to fix mistakes.
Round 15: Netherlands
Max took pole position for his home race, with Leclerc P2 by just 0.020 seconds. As good as Ferrari's pace was during qualifying, they were significantly off the pace in the race, being outpaced for the Mercedes for most of the race.
On lap 15, Carlos Sainz came into the shortest pitlane of the season for his first stop and it was disastrous. They also had their wheel gun outside their pitbox, which led to Sergio Perez of Red Bull running over it and breaking it. Ferrari had been quite nifty with most pitstops this year, but they only brought 3 tyres out for the stop instead of all 4. It only compounded his woes, after a lap 1 turn 1 scuffle with Lewis Hamilton causing damage to his floor.
However, a lap 57 retirement for Bottas brought out a Safety Car, which led to a huge mix up in the race. Lewis Hamilton stayed out as the team prioritise track position while those behind him pitted for softs. It'd be a bad decision for Lewis, who had been leading the race at the time, since his old mediums could not match the pace of the new softs of everyone else. Max overtook him at the safety car restart, and he was subsequently followed by George Russell and Charles Leclerc, who was, for once, on a good strategy!
However, this was a high downforce track, and this should have been an advantageous track for Ferrari. There has been immense speculation (again, it's just speculation) that the sudden loss of pace for the Scuderia after the winter break could be attribute to TD039, while it seemed to not affect Red Bull at all.
Round 16: Italy - Monza
The Autodromo Nazionale Monza is Ferrari's (and AlphaTauri's) second home race on the calendar. Having already lost Imola quite drastically, the pressure was on Ferrari this weekend. They had a draggy, high downforce car, and this was a low downforce, high speed circuit.
Ferrari knew they had a disadvantage at this track, and Italian media reported that Ferrari had turned their engines up for the weekend, and ran a special, extremely low downforce Monza wing. Stellantis CEO, John Elkann, who owns a controlling stake in Ferrari, was also at the circuit for the Italian GP weekend. Also present was the President of Italy, making it a high pressure atmosphere in the team's paddock.
Ferrari were running a special livery commemorating the Modena Yellow color that has been key to Ferrari's history with its connections to their founder Enzo. The race suits of their drivers were in the iconic Modena Yellow as well.
It was a joyful Saturday for the Tifosi as Leclerc took pole from Max Verstappen by about 2 tenths, with his teammate Carlos Sainz in P3.
Many drivers up and down the grid would take engine penalties for Sunday, leading to some chaos at first, while the FIA prepared the Final Starting Grid. Carlos Sainz would start from the back of the grid as he had taken multiple new engine components, which would end up being P18.
On Sunday, Carlos Sainz would make a great recovery drive to P4, edging out bioth Red Bull's Sergio Perez who had a brake fire and Lewis Hamilton, who started behind him.
Red Bull, uniquely, chose to not go for a flat Monza wing, but a downforce-rich wing, and the reason for that was that since they already had a quick car on the straights, more downforce would help them with tyre degradation on Sunday (As explained by this brilliant article by Mark Hughes and Giorgio Piola, with some great diagrams to explain it as well). Turns out, Red Bull's strategy worked as Max Verstappen could pull a one stopper while managing his tyres, while Leclerc had to take a two stopper. An engine failure for Daniel Ricciardo on Lap 47/53 led to a safety car which the race ended under, with Leclerc stuck in P2. It was a disappointing result for the Scuderia as they had tried to put in everything to win this weekend.
Many criticized Ferrari for not going for a one stopper, but clearly, they were suffering from the degradation in a sunny Monza, and that strategy would have not worked for them. There was also some criticism of the FIA for not putting out a red flag, but despite the FIA having made many mistakes this year, in my opinion, it was a good call to go by the rule book instead of prioritising the racing. Safety is more important.
Of course, many Ferrari fans were concerned about the reliability with these turned up engines, but luckily for them, that was not much of a risk this weekend. They were also pretty good with communication with their drivers.
Round 17: Singapore
Singapore was another track suited to the Ferrari, with slow corners and a high downforce requirement, and Leclerc capitalized on it during qualifying which was wet at first, only to dry upas the session progressed.
Max Verstappen's side of the pitwall told him to abort his quickest lap in Q3, and give it another shot, but he had to abort that one as well, as he'd be short on fuel, that resulted him in finishing a rather low P8.
Sergio Perez got ahead of Leclerc on the start, and considering they were almost matched on pace, the order at the top didn't change. With a couple of safety cars due to multiple crashes on Sunday, Sergio Perez exceeded the 10 car length gap that the leader must maintain, earning him a warning and a 5 second penalty after the race. Red Bull did expect this, however, and made Perez pull a 7 second gap ahead of Leclerc at the end of the race.
Verstappen dropped all the way to P13 on the start, and put in a great recovery drive to go up to P5 and locked up trying to overtake Lando Norris losing tons of positions again.
The weekend ended in a 2-3 for Ferrari, their best result in quite a few races.
Round 18: Japan
It was a wet weekend in Japan with some Pirelli tyre testing to go along, as Verstappen took pole on Saturday with just a hundredth of a second to Charles Leclerc.
Leclerc got a better start on Sunday, but Verstappen took the faster outside line on Turn 1 to go around Leclerc and take the lead as Sainz aquaplaned into the barrier. Sainz's car had a broken rear wing and that was the end of the race to him. As the rain worsened, the session was red flagged, only to begin much later, resulting in a 28 lap race. It was a rolling start as Max led into turn 1 on his full wet tires only to box for inters later as Nicholas Latifi and Sebastian Vettel who took a gamble on them early on found much more pace. RBR double stacked Perez and Verstappen, while Leclerc boxed alongside as well.
Both Max and Leclerc had the measure of the field after that, going about 1 second faster than everyone else, but Ferrari's degradation struck again, chewing away the treads on Leclerc's intermediates. At the end, Max was so much quicker that he pulled off a 25 second gap in 23 laps, putting in an absolutely dominant drive. Leclerc and Perez shared a close battle in the closing stages, but on the last lap, Leclerc cut the corner which was deemed as an unfair advantage by the stewards, securing a P2 for Leclerc.
With some confusion about the points cleared, this ensured Max won the WDC in Honda's home race.
It was a decent weekend for Ferrari, but nothing very special. Tyre degradation haunted them yet again.
Perhaps the most interesting fact about this weekend was Ferrari's introduction of an automated female voice that would inform their drivers of yellow flags, VSCs, SCs and red flags.
Round 19: USA
Carlos Sainz took his second ever pole at the Circuit of The Americas, with Leclerc just behind him in P2. However, he had a collision with George Russell at the start, which resulted in a hydraulic leak for him that led to a DNF.
Leclerc had a lot of degradation throughout the race and could only finish P3, on a rather windy Sunday. A botched pitstop by Red Bull led to a great battle between Hamilton and Verstappen, but Verstappen pulled off a 5 second gap to him later on, securing a WCC for Red Bull with teammate Sergio Perez.
We already have weekend reviews for the following weekends, so their descriptions will just be excerpts.

Round 20: Mexico
Ferrari was a minute off the leaders on Sunday in Mexico, as they had to turn down their engines since low pressure air at Mexico's high altitude didn't provide enough cooling to their turbochargers, which have blown up many times this year.
Read the Race Debrief Mexico City GP Weekend Review here.
Round 21: Brazil

Qualifying in Brazil on Friday was a disaster from the Scuderia as they pitted Charles to put on fresh inters, after which they decided that new softs would be a better option, but ended up giving him a set of used softs from FP1, which he duly pointed out, as chaos reigned supreme in the garage with a single mechanic then rushing in to get soft tyres one by one as Charles set out again to set a representative time as soon as he could in Q1.
In what was a rather baffling call during Q3, Charles Leclerc was the only driver on inters, with everyone else, including his teammate Carlos Sainz, on new softs, a choice that'd only really work if it began raining extremely heavily rather quickly, which was extremely unlikely. Leclerc was struggling for grip on the inters on a track where the racing line was mostly dry, and qualified P10. Sergio Perez was stuck behind Leclerc and lost 3+ seconds on his lap as well, which was only good enough for a P9.
Leclerc put in a decent recovery drive on the sprint on Saturday as he climbed up to P6. Sainz had to go from a 2 stopper to a 3 stopper after having a brake fire due to someone's tearoff, similar to Leclerc's incident in Belgium.
A shunt with Lando Norris after the safety car restart sent Leclerc into the barrier on Sunday, which he recovered from without critical damage, but had to pit. He put in a good drive to recover to P4 and asked Ferrari to swap him and teammate Sainz who was P3, so that he could edge out Perez for second place in the drivers' standings, which they denied.
This led to them being on equal points in the standings heading into the next weekend.
Read the Race Debrief Brazilian GP Weekend Review Part One here.
Read the Race Debrief Brazilian GP Weekend Review Part Two here.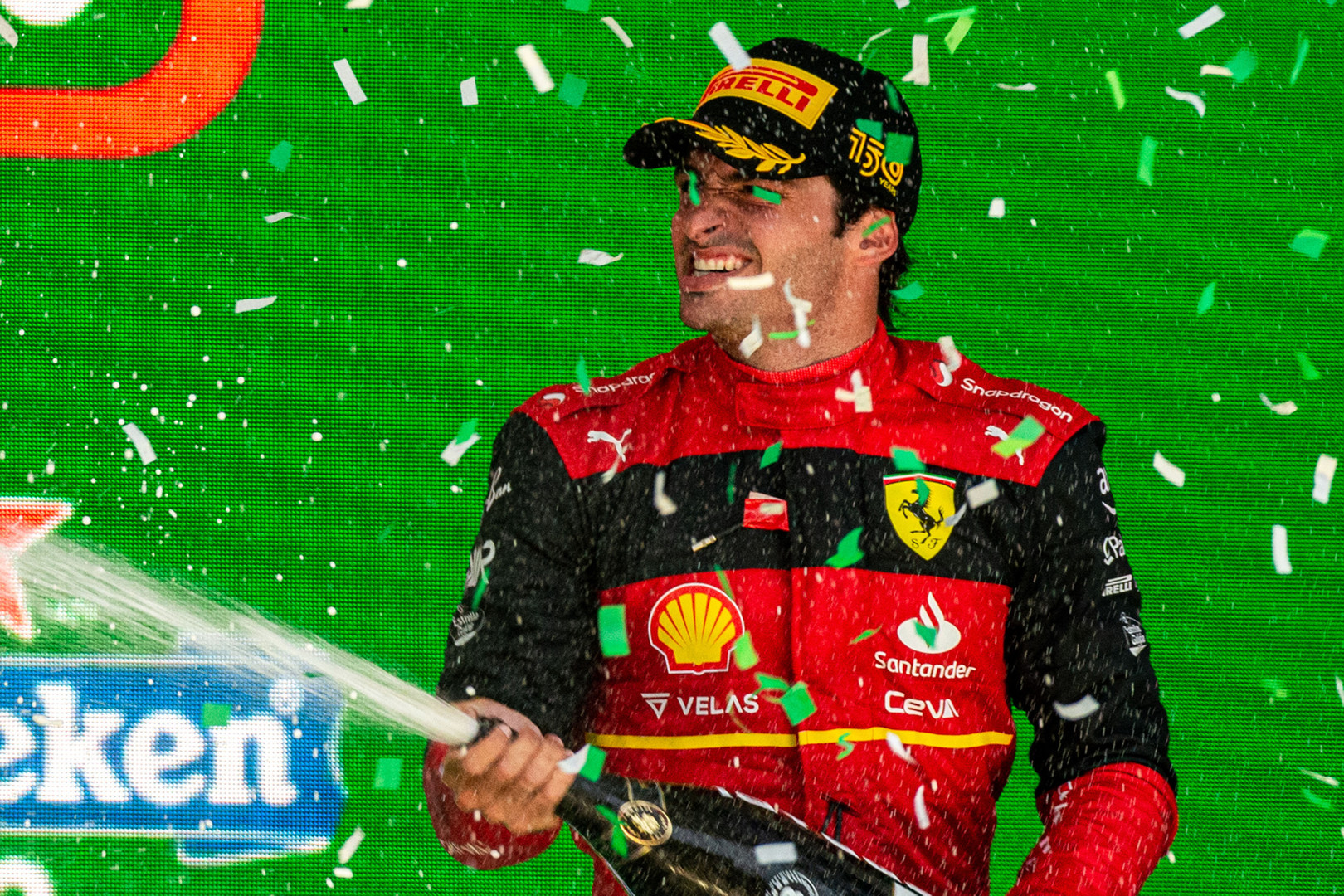 Round 22: Abu Dhabi; The Finale
Ferrari said that Abu Dhabi was finally a race where they could run their engines at their full capabilities again. Perez struggled with high degradation and pulled off a two stopper, while Ferrari played a dummy on him early on, but put Leclerc on a one stopper. It was close to the finish line between them, as Perez finished just 1.33s off Leclerc, having to settle for P3, whilst Max cruised to a dominant victory by more than 8 seconds, having pulled off a one-stopper himself.
Leclerc scored P2 in the championship off of Perez by just 3 points but with a 146 point gap to Max, a far shot from what he'd have expected at the start of the season. But he managed to salvage something out of it.
Both Leclerc and Max performed donuts as the paddock bid farewell to Sebastian Vettel.
Read the Race Debrief Abu Dhabi Grand Prix - Weekend Review here.
Conclusion
The TL;DR at the top offers insight on the exact mistakes Ferrari made.
However, it is my opinion that the team's biggest weakness is their sensitivity to media. It leads to chaos and uncertainty, which are not good for a sport where mentality matters a lot. This is, after all, the team that fired Alain Prost for describing their car as a "tractor". Expectations run high, no doubt, but sometimes, the media must be given a deaf ear. Ferrari should not shrug away from the criticism they faced this year, but use it as a learning opportunity. They had a fantastic car this year and have a good baseline for the rest of the years with these regulations, and two great drivers at the wheel.
They need to look at what they can improve, and just changing the head honcho won't make a significant difference. They've tried that already. The strategy team is the one that needs restructuring the most, perhaps, with some new members who prefer more adaptive solutions. Having listened to multiple onboards throughout the year, it is my opinion that Leclerc should probably get a new race engineer as well, someone with just a bit more conviction and confidence.
After what most expected to be a championship winning car in 2022 that ended up only winning 4 races, I hope Ferrari can fix these issues throughout this winter so we have a fantastic and competitive season in 2022, and give their loyal Tifosi some joy.
---
Disclosure
This article is entirely sponsor-free. This website is self hosted and does not generate any revenue. The only user-data is collected by the owners except the default data collected by Cloudflare is page visits and origin country data (for analytics). You aren't and will not be served ads on this page, ever.
This website is unofficial and is not associated in any way with the Formula 1 companies. F1, FORMULA ONE, FORMULA 1, FIA FORMULA ONE WORLD CHAMPIONSHIP, GRAND PRIX and related marks are trade marks of Formula One Licensing B.V.
Any product names, logos, brands, and other trademarks or images featured or referred to within the app are the property of their respective trademark holders. These trademark holders are not affiliated with Race Debrief or its contributors. They do not sponsor or endorse Race Debrief.
"F1 TV®️", "Formula 1®", "F1®", "Alfa Romeo®", "AlphaTauri®", "Alpine®", "Aston Martin®", "Ferrari®", "Haas®", "Haas F1 Team®", "McLaren®", "Mercedes®", "Red Bull®", "Red Bull Racing®", "Williams®" are trademarks of their respective owners and are not affiliated, endorsed, connected or sponsored in any way to this website.